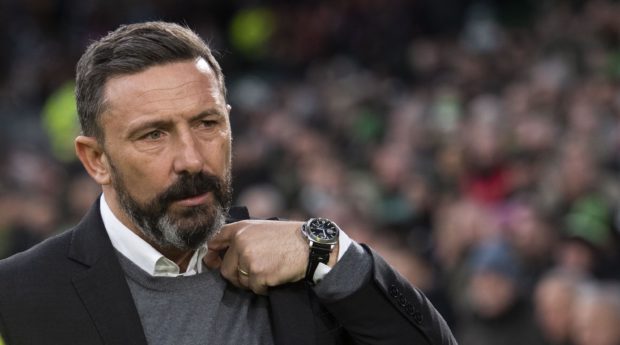 Aberdeen manager Derek McInnes is ready to cast the net far and wide in his attempts to bring new players to Pittodrie.
The Dons are sharing their resources with MLS side Atlanta United following the new partnership formed between the clubs in November.
Atlanta have north and south America well covered in terms of their scouting operation but European coverage is weaker.
Aberdeen have expanded their European operations substantially in recent years and
McInnes believes his club is well placed to run the rule over potential targets for both his club and Atlanta.
He said: "Over the last 18 months we have concerted effort.
"We look at 10 different leagues in Europe and we concentrate on them.
"Having men on the ground there is no possible because we don't have the resources.
"What we can do is use software and the recruitment team at Cormack Park have a good handle in what is happening in these leagues, their out-of-contract list, players who are doing well and any position we might be looking to fill and we are well-versed who these players are, their contracts, salaries and who the agent is – all the sort of information."
Aberdeen's reach into Europe is growing but McInnes insists his club will continue to be prudent when it comes to trying to recruit players to the club.
The Dons may have the ability to source feedback on a potential target in Europe but the overhaul of the scouting operation does not mean an influx of players from abroad is imminent.
Kari Arnason, who returned the Dons from Omonio of Cyprus in 2017, is a rare example of a player moving to Pittodrie from Europe with McInnes largely content to focus on the British market.
The Aberdeen manager says the cost-effectiveness is one of the major factors behind his policy.
He said: "The world is getting smaller and smaller with players willing to travel and there is more contact with agents in these countries.
"I am not saying we won't do it we just need to make sure when we do make signings from outside of Britain then we are as sure as we can be.
"The difficulty we have is that, for example, say we try and look at a player from Slovenia.
"If you put the same detail and research into watching a player in Scotland or England then you are almost at £40,000 before you make a decision, in terms of flights, investments and hotels, etc.
"So you need to be pretty sure and you can't waste that. It costs you a fraction of that to sign a similar player from England.
"What you can do is to get yourself as confident as you can with the tools you have."