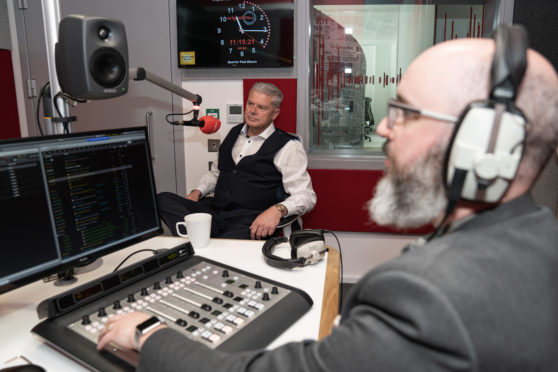 Friday was a day like no other I have experienced in sports journalism.
New Aberdeen chairman Dave Cormack came into our office in the morning to be a special guest on our Northern Goal podcast.
At the time of recording, we were under the impression that all of the weekend fixtures in the SPFL were to proceed as planned, including the Dons' trip to Motherwell that evening.
Despite it being a week where the Dons had made a couple of major announcements – including a plan to decrease the Pittodrie capacity to 15,500 next season – it felt only right to start on the topic of coronavirus and its potential implications for the Scottish game.
Cormack stressed this was a situation which required calm heads and a measured approach, but added that he felt the Dons were in a position where they would be able to cope with a short suspension of games or playing behind closed doors.
We continued the interview, going on to discuss his plans for Pittodrie and the club's proposed new stadium at Kingsford before The Press and Journal's news editor Shona Gossip popped up at the window of the soundproofed radio studio holding a large piece of white paper.
It simply read: All Scottish football cancelled.
The timing was a shock but the news was not unexpected because the previous night's announcement that Arsenal boss Mikel Arteta had contracted coronavirus had clearly changed the gravity of the situation.
Dave Cormack finds out Scottish football is suspended because of coronavirus while recording our Northern Goal podcast:
The Scottish Government had recommended waiting until today to ban mass gatherings of more than 500 people but, in the studio, we agreed the Scottish FA and the SPFL had made the correct call.
When the country is facing a public health crisis, a Scottish Premiership match doesn't seem important at all.
After we finished recording the podcast, with Cormack sharing his opinion on the breaking news, I went back to my desk.
Our plan for the 13 pages of sport in Saturday's Press and Journal had been rendered completely redundant by the announcement.
Marcus Fraser's thoughts on Ross County's crucial encounter against Hamilton and Cameron Harper's hopes of starting for Caley Thistle at Arbroath were of no use now, unfortunately.
Throughout the day the postponements kept coming: Scotland's Six Nations match against Wales, the London Marathon, the Masters. All cancelled.
Instead it was time to hit the phones and talk to some of the chairmen and managers of our local teams and get their opinions on what is set to be a very challenging period for those clubs who are so reliant on matchday funds to survive.
They were all in general agreement – this was a sensible and correct move, but it would create immediate financial challenges as well as logistical problems down the line when play resumes. If, as expected, we are heading for a lengthy suspension of football then matters such as promotion, relegation and European qualification may need to be decided.
Leaving the office on Friday night, my mind was still going over the day's events and what we can come to expect over the next few weeks and months.
It certainly hit home over the weekend, particularly as it was one free from football.
The absence of football for a few weeks seems so trivial given the heartbreak this outbreak is causing across the world.
We need a sense of perspective given what is happening elsewhere but sport is a form of escapism for many people.
For 90 minutes, life's little worries disappear as we cheer on our teams and get caught up absorbing and enjoying the action.
In many ways we need that light relief now more than ever so let's hope the matches are not off the calendar for too long.