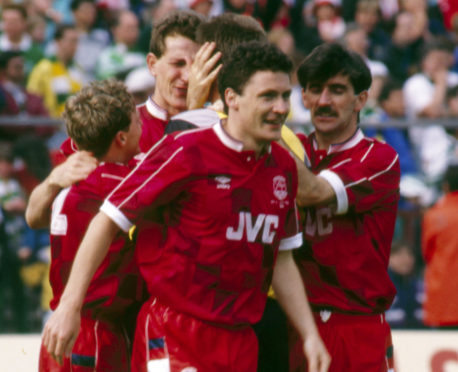 Aberdeen manager Derek McInnes is of the belief there is no such thing as a lottery when it comes to a penalty shoot-out. Practice makes perfect, as far as the Dons boss is concerned.
Former Don Robert Connor has a different perspective. He is of the belief the key for any player is to be as high up the list of penalty takers as you can.
He put his theory to the test at Hampden in 1990 as the Dons won a historic first Scottish Cup final to be decided on penalties when they beat Celtic 9-8 on spot kicks.
The 30th anniversary of Aberdeen's last Scottish Cup final win is tomorrow and while much has changed in the game since Connor donned the red of the Dons the former midfielder believes his school of thought has stood the test of time.
He said: "Nowadays when you look at penalty shoot-outs, because they are such a big part of things, especially in big European games, every detail is covered. In our day there wasn't so much detail put into that.
"After the final whistle went Jocky Scott came out with his bit of paper and said 'right, who is taking the penalties?' Jim Bett, our regular penalty taker, went first and I said I would go second even though I hadn't taken a penalty in the shoot-out against Rangers in the League Cup final in 1987.
"There is a thing about penalty shoot-outs which has always struck me and it happened in the Scottish Cup final. Players can miss during the penalty shoot-out, but the only miss people remember is the last one.
"I thought if I'm going to miss a penalty I'm going to miss it early because then there is a chance someone else will miss one later on and I won't get the blame.
"That's what happened because if you think of that final Anton Rogan missed the penalty which allowed us to win the cup but no one mentions Dariusz Wdowczyk's miss earlier.
"It's always poor Anton who is mentioned as the guy who lost the cup for Celtic which proves my point.
"That's why I offered to go second and get it out the way and fortunately Pat Bonner went the wrong way, as he did for almost all of the penalties."
Connor's decision to follow Bett paid off and he had the luxury of going after Celtic defender Wdowczyk had missed his side's first spot kick. Brian Grant of the Dons wasn't so fortunate, however, as he missed his effort and set the tone for a tense countdown as every outfield player stepped up.
It would have been the goalkeepers to go next had Brian Irvine, the last outfield player, not scored the winner.
Connor said: "It was a nerve racking experience though. It's funny, the guys who don't normally take penalties, such as Alex McLeish and Stewart McKimmie, took theirs really well.
"If the goalie dives the right way for a penalty that is not struck well he'll save it, but fortunately most went our way.
"I'd imagine a goalie saves more than a player scores if he guesses the right way but that's not a scientific survey which I've just made up there. Anton Rogan's penalty was actually struck well but Theo Snelders' save was fantastic. He must have dived early and low to get to it.
"From there the stage was set for Brian to become the hero.
"Like the Skol Cup final earlier that season, when you win there is a mixture of relief and jubilation at winning a trophy.
"Penalties take it up a level as it's an instant high or low depending on the outcome. After it was settled you have to try to take it in as those days don't happen that often.
"Coming back to Aberdeen and the open top bus was terrific though."
Aberdeen's confidence had been bolstered by their League Cup triumph against Rangers earlier in the campaign. Having lost two League Cup finals to the Gers prior to their win at the third attempt in 1989, Connor can recall all three vividly.
The Scottish Cup, however, was a largely forgettable affair prior to the drama of the spot kicks.
Connor said: "The three League Cup finals in a row against Rangers were all good games. The Scottish Cup final against Celtic wasn't a good spectacle at all.
"When I look back the drama of the penalty kicks at the end is all I can recall. I don't remember anything about the game at all.
"The Scottish Cup was always looked upon as a bigger trophy than the League Cup so it was good to win it. It was the only Scottish Cup final I played in so it was great to play and win it."
Connor recalls fairytale which saw replacement for Aberdeen's greatest player become Hampden hero
One man was absent from the Dons Scottish Cup-winning side 30 years ago – their inspirational captain Willie Miller.
He was battered and bruised as the years of service had taken their toll but the man regarded as the Dons' greatest player was willing to play his part at Hampden.
Former boss Alex Smith regards telling Miller, who had been suffering from a knee injury which would ultimately end his career months later, he wouldn't feature as the hardest conversation he has had with a player in his career.
But a decision which was agonised over for weeks ultimately brought a fairytale ending for the man who took Miller's place in defence – Brian Irvine, who would score the winning spot kick at Hampden.
Robert Connor said: "Willie Miller had played with the young players at Parkhead in the run-up to the final because he was desperate to be involved at Hampden. It was typical of the sort of player he was.
"We could see he wasn't running properly and at that stage of his career he was really toiling and he had to hang up his boots soon after.
"He told me once the surgeon had seen knees which were horrendously damaged in car crashes and that sort of thing but Willie's knee was actually worse.
"You can imagine the pain he was going through and he maybe had his eye on an end of season Scottish Cup final.
"I've never talked to Willie about it. But it worked out well with big Brian scoring the winning penalty."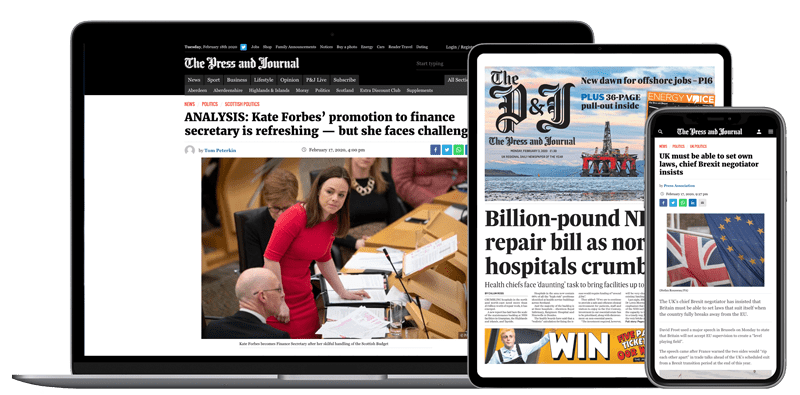 Help support quality local journalism … become a digital subscriber to The Press and Journal
For as little as £5.99 a month you can access all of our content, including Premium articles.
Subscribe