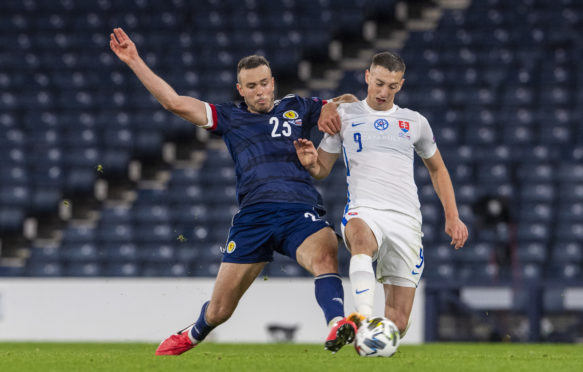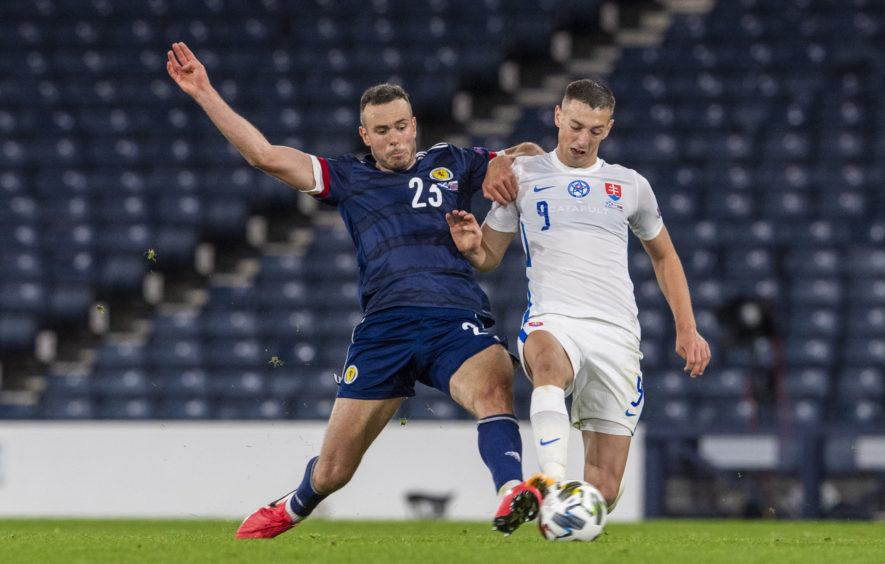 Aberdeen boss Derek McInnes felt there was a sense of irony that an injury to long-term teammate Scott McKenna handed Andy Considine his first Scotland cap.
Considine has been dubbed the Banchory Baresi after his impressive performances for Scotland against Slovakia and the Czech Republic after being drafted in as a late call-up to Steve Clarke's squad.
McKenna, who moved from the Dons to Nottingham Forest in a £3million move last month, missed the recent international triple-header through injury and Considine has now staked a claim to start ahead of his former teammate when Scotland take on Serbia in Belgrade in next month's Euro 2020 play-off final.
McInnes said: "There's no doubt Andy probably thought the opportunity had passed.
"He didn't mope about, although I did think that in the last year he sensed he was closer.
"I think Scotland playing the back three now – the same as we have here this season – has really helped him.
"Rather than being down, we've always just said to look to the next squad.
"I don't believe he believed the door was closed because it means so much to him.
"It's a great story because he probably didn't expect it and to be brought in when he wasn't in the original squad, that's the way it was maybe always going to happen.
"There's a great irony that it was because Scott McKenna got injured he got his chance.
"Without his injury he probably wouldn't have been involved.
"Andy didn't get to play left centre back in a four as much as McKenna did because I saw the development of him and the value of millions of pounds.
"Scott repaid that with the transfer he got.
"But this season I decided we'd play a three so we could get Andy and McKenna in there together.
"I didn't think it would be fair to go to the well with Andy again at left-back."
And, after waiting so long for his chance, McInnes was unsurprised to watch 33-year-old grab the opportunity with both hands by producing two commanding performances to help Scotland stretch their unbeaten run to eight games.
He said: "We saw a very Andy performance in both games. Dependable, trustworthy – and playing on the left of a three suits him.
"The last few seasons, he's been between left centre back and left back for me.
"I hear what people say: 'Oh, he's never a left back.' Well I think he's got player of the year three times while playing at left back.
"I think people recognise how dependable and trustworthy he is. Part of the make-up of a good defender is exactly that, making good decisions, staying calm and positioning himself properly.
"All these elements get better with age and the best defenders improve as they go along.
"You can still have experienced defenders making the mistakes they did at 20.
"That's not Andy. Everybody recognises the improvement he's made.
"Since we came into the job here, Andy has been a huge part of the culture in the dressing room.
"I think he's enjoyed the professionalism of the club, the improvements in the team and the club – and he's come along with that.
"He's been an integral part of each team and squad that I've put together.
"So to see him now perform, at long last, in a Scotland jersey gives great satisfaction to everybody – but particularly Andy.
"Because there have been international breaks when players have been away – and we've had a few over the years. Shinnie, McLean, Jack, Devlin and McKenna.
"Andy would be coming in here during those breaks, working away, knuckling down and always thinking: 'Why not me?'
"We always hoped there would be a time."