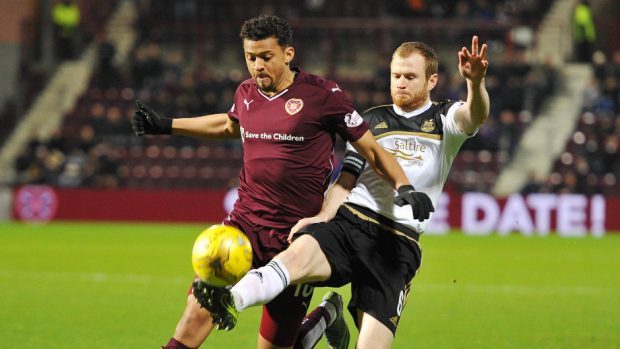 Mark Reynolds is convinced the Dons are the best team in the country when they play at their peak.
Reynolds stood back and admired his Reds at their free-flowing best on Sunday as they dismantled Hamilton with an impressive 3-0 win.
Accies got off lightly to leave Pittodrie having conceded just three times but the performance reaffirmed Reynolds' view his team is without equal in Scotland when on song.
He said: "That was us at our best. When we get the ball down and go at teams and are attacking and expansive, I think the key thing is the pace we go at.
"When we have players on form and running at that pace then I don't think there is any team in the country that can live with us. I think that is probably our biggest asset.
"We were very free-flowing and it was a joy to watch and I had very little to do. I was lucky to be able to stand back and watch the players run riot. It was great."
Reynolds has grown used to following Celtic's lead recently but the Aberdeen defender hopes his side can make the most of their chance to pile the pressure on the Hoops this weekend.
The Dons have played after Celtic in their last three league games but have a rare chance to strike the first blow when they go to Hearts tonight.
With the champions facing an equally testing trip to Fir Park tomorrow to play Motherwell, Reynolds hopes the Reds can add to the task facing Celtic in the lunchtime kick-off.
He said: "In recent weeks it has got to the stage where we have needed to react as they would put on a good performance and we would then need to react.
"They will hopefully feel a bit of pressure this time if all goes to plan and we get the three points.
"Tynecastle is one of my favourite grounds to go to. It is a nice tight pitch and the supporters are right on top of you and make a lot of noise. It should be a good night."
Clearly confidence in the Aberdeen camp is good especially after Celtic dropped two points on Tuesday when they were held to a goalless draw at Dundee.
But Reynolds knows there remains no margin for error from his team as the Dons bid to win their remaining six games of the campaign and overhaul the Hoops' five point lead, starting with tonight's match in the capital.
He said: "We have always just worried about ourselves. We just want to make sure the right Aberdeen come out to play.
"If we turn up with the same appetite and the same pace and attacking play as we did on Sunday against Hamilton then we would give ourselves a great chance and it will be a great game."
An Aberdeen victory would keep the pressure on Celtic at the top and it would also strike a crushing blow to the Jambos' hopes of catching Derek McInnes' side, with an away win moving the Dons 15 points clear of Robbie Neilson's Jambos, who would have six games remaining.
On Neilson's claims Hearts are still holding out hope of catching his side Reynolds said: "That is what you would expect them to say. It is the party line.
"We just worry about ourselves and that has been pretty much the case since the manager came in.
"We can only worry about ourselves and we can only do what we need to do. Everyone else can say what they want and write their stories but we just worry about ourselves.
"We just need to keep winning and if we do that we don't need to worry about Hearts."