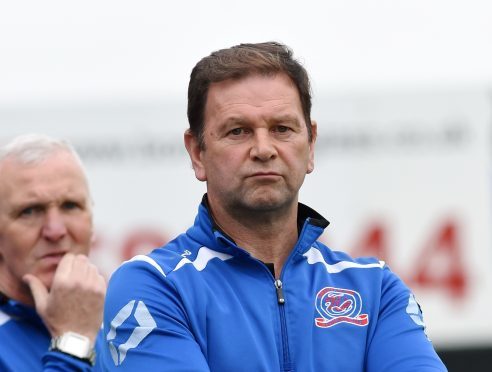 Ross Jack hopes to make a quick return to football management after being sacked by Turriff United.
The Haughs club parted company with the former Everton, Norwich and Dunfermline forward on Monday with the team sitting in 13th position after a disappointing campaign.
Kris Hunter, the former Formartine United manager, is among the favourites to replace the 58-year- old, with Jack's assistant Graeme Roy placed in charge on an interim basis.
Jack said: "I don't really want a break and I would love to get back into football as soon as possible.
"I am steeped in the game. It's in my blood. I see this as a temporary setback.
"I'll take it on the chin and I'll be stronger from the experience when I get back into the game."
Jack felt his side's well-documented injury problems and a lack of funds to invest in replacements were the major factors behind a disappointing run of results, with the club recording only seven wins from 20 Highland League games.
He said: "This season has been tough and difficult decisions had to be made.
"It has been a tough ride for the club with the injuries and the restraints on who we could sign due to the finances and the results have reflected that.
"We have had to let players go that I wanted to stay but we had to let them move on because of the financial constraints."
However, Jack says he leaves Turriff with some happy memories.
He added: "I've loved my four years at the club. It has been a great experience.
"I think finishing second in 2016, our first full season in charge, was our biggest achievement, along with winning the Morrison Motors (Turriff) Aberdeenshire Shield the season before just after we arrived.
"When we finished second, our points tally would have won the title any other season but Brora were exceptional that season.
"The toughest time on Monday was when I had to say my goodbyes to the kit lady Pearl Hendry, an absolute angel who has looked after me wonderfully well from the day I arrived.
"It was a very emotional moment for both of us and Pearl will remain a lifelong friend."