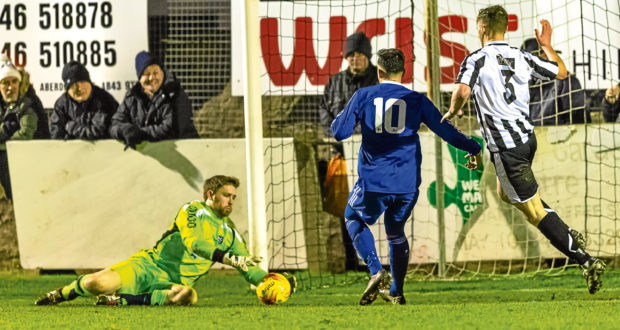 Fraserburgh goalkeeper Paul Leask hopes the Broch can maintain their impressive record against Cove Rangers when the sides meet at Bellslea Park this evening.
Last night's scheduled meeting between the Highland League title contenders fell victim to the wet weather with the sides set to try again this evening.
The Broch are five points adrift of unbeaten Cove, having played two matches more than John Sheran's men.
However, Leask knows a victory against the league leaders this evening would add some extra pressure on the Aberdeen side as it tries to claim the league crown.
Leask believes his side can go into tonight's match with plenty of confidence, having defeated Cove 3-2 in last week's Highland League Cup semi-finals.
The Broch are also unbeaten in their previous six league matches against Cove Rangers after recording one victory and five draws since a 3-1 defeat on January 3, 2015.
Leask said: "We are on a good run against Cove so I don't think we have anything to fear.
"They had a strong team out against us in the Highland League Cup and we still managed to get the victory.
"They have played very well this season and have some very good players but we are looking forward to the match.
"We knew the game was always going to be in doubt after so much rain.
"It is disappointing but the Bellslea pitch is pretty good at coping with heavy rainfall so hopefully the match goes ahead at the second time of asking.
"It has the makings of a very good game so we want to be playing in decent conditions.
"Last week's cup match could have gone either way and I expect another close game this time but hopefully we get the same outcome."
Cove Rangers captain Eric Watson was also optimistic tonight's game would be on.
He said: "We weren't surprised the game was called off but the forecast is looking pretty positive.
"We need to get the game played as we have a busy enough stretch of fixtures coming up already.
"Fraserburgh tend to play well against us.
"We played reasonably well in last week's cup game apart from the first 10 minutes but we know we need to be better on this occasion."
Cove manager Sheran said: "We will just prepare for the game exactly the same.
"The only player who may miss out for us is our forward Paul McManus.
"We won't know until earlier in the day if he is going to be able to get time off his work to be able to play."
Last night's match between Keith and Formartine United was also postponed due to a waterlogged pitch.
The teams will try again this evening (8pm kick-off).