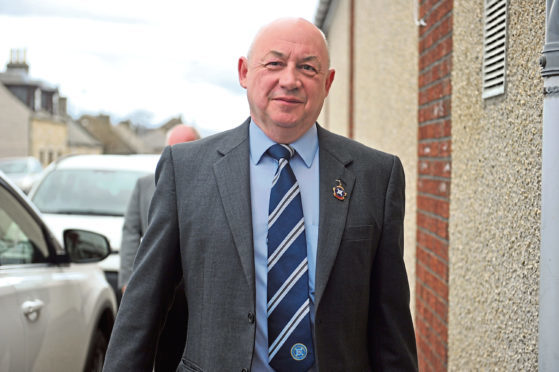 After three years in the post Dennis Bridgeford has stepped down as president of the Highland League.
The Brora Rangers director has been succeeded by Buckie Thistle vice-president Raymond Cardno. Turriff United chairman George Manson moves up to senior vice-president while Formartine United treasurer Sandy Sinclair assumes the junior vice-president role.
Bridgeford looked back on his tenure with a mixture of pride and, on occasion, exasperation.
By far his biggest challenge came at the end of the 2016-17 season when it was alleged Buckie Thistle had listed an ineligible player, Callum Murray, on their team lines for the second last game of that season, a 0-0 draw at Formartine United.
The Jags could have faced a points deduction which could have handed fellow title challengers Cove Rangers the title.
But after discussing the matter at length, the league management committee decided to take no punitive action against the Victoria Park club who went on to lift the title the following Saturday, on goal difference over Cove, with an emphatic 9-0 home win over Strathspey Thistle.
Bridgeford said: "Over the three years I must admit that it was a very rocky road on occasion and no doubt the most controversial moment came with what I called 'the Buckiegate affair' which took a wee bit of time but we got there in the end.
"I have no doubt whatsoever that the end result was the correct one.
"It was an unfortunate incident and it all came together through various errors but I have no doubt Buckie Thistle deserved to win the title."
Bridgeford also found the pyramid play-offs a source of frustration and believes the team that finishes bottom of SPFL's League 2 should be automatically relegated.
He said: added: "It is crazy to allow the club that finishes bottom of League 2 to remain in that league.
"Even just from a fixtures point of view, we don't have enough spare Saturdays during the season. If the winner of the two-legged play off between the champions of both the Highland and the Lowland Leagues went straight into League 2, it would free up a couple of Saturdays."
Bridgeford, meanwhile, paid tribute to Gothenburg Great Neale Cooper, who died aged 54 in Aberdeen earlier this week.
He added: "Any time I was in Neale Cooper's company, he made me feel like a million dollars.
"I hadn't seen him for ages, not since the death of my wife, when he saw me in a hotel and came across to say how sorry he was when he heard the news.
"At other times, perhaps when you weren't feeling that great, he made you laugh. He took the worries of the world off your shoulders, that's how I will remember Neale Cooper."