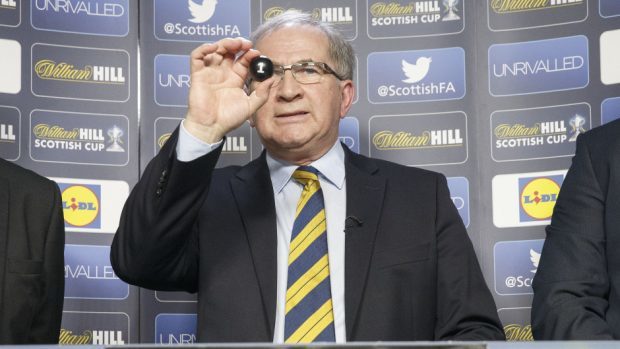 Cove Rangers have confirmed that honorary club president Alan McRae is to be honoured by having the main stand at Balmoral Stadium named after him.
The official unveiling ceremony will take place ahead of Saturday's Highland League Cup semi-final clash against Wick Academy.
McRae, the president of the SFA, is being recognised for his service during an association with Cove Rangers that stretches back more than 50 years.
He first played for Cove in 1969, in the amateur leagues, before becoming the club's chairman.
Former Manchester United and Aberdeen manager Sir Alex Ferguson, a close friend of Alan, applauded the Cove board of directors for ensuring there will be a lasting tribute in place to their "great member and benefactor."
Sir Alex added: "They could not have made a better choice.
"Alan really deserves this accolade from Cove Rangers and I would like to applaud everyone at the  club for recognising his achievements over the last 40 years, and more."
Cove Rangers chairman Keith Moorhouse said: "Everybody knows what Alan has done for the club so it's fitting his efforts are being recognised in this way.
"He had the foresight to look beyond the amateur leagues and pushed for Cove to strive to play at the highest levels possible.
"We have simply carried on the good work instigated by Alan all those years ago.
"He has always cared deeply about the club and for the people at the club.
"This is our way of expressing our gratitude on behalf of all of us."
McRae, who retires from his post at the SFA at the end of this season, said: "It's an honour I never expected to receive but I can assure everyone at the club it means a lot to me.
"Seeing my name along the top of the stand is going to take a bit of getting used to, but the upside is Cove might not make me pay at the gate now to get a seat!
"Joking aside, I would like to thank Keith and everybody else at the club for their kindness and generosity."
The unveiling ceremony will take place just prior to the cup-tie, which kicks off at 2.30pm on Saturday.