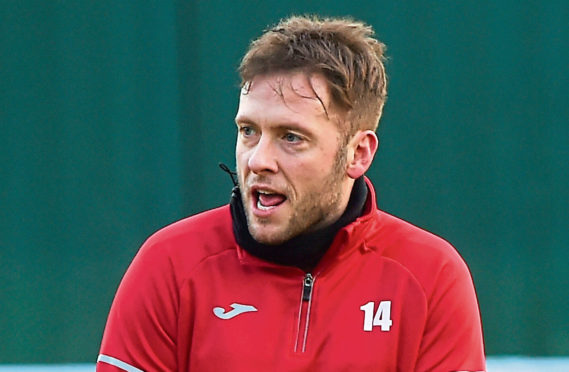 Formartine United manager Paul Lawson has urged his players to show him they deserve a cup final starting place when United face Strathspey Thistle at North Lodge Park tonight.
United player-manager Lawson believes fourth is the best his side can finish in the league.
However, with a League Cup final against champions-elect Cove Rangers looming on April 6, the Formartine boss has warned places are at stake.
He said: "Looking at the league table and the remaining fixtures ourselves and Fraserburgh have left, realistically fourth place looks where we will finish, which is disappointing.
"Our expectations at the beginning of the season were a lot higher but we can slightly make amends if we manage to take home the League Cup trophy.
"With the final against Cove Rangers coming up, this game gives the players the chance to stake a claim for a place in the side.
"With Scott Henry, a long-term injury victim with a knee injury, the only one out, there is certainly competition for places and that's not making my job any easier to be honest.
"But I would rather have that problem than be struggling to field a side, so I can't really complain.
"We put in an excellent performance in our 5-0 home win against Clachnacuddin last Saturday and hopefully we are coming into form at the right time."
Strathspey manager Gordy Nicolson is targeting a late run to hopefully climb several places in the table.
He said: "It will be a difficult test for us as Formartine are doing well, but we managed to get a 2-2 draw with them at our place earlier in the season so you never know.
"We were disappointed to lose 2-1 at Huntly at Saturday so I'm looking for a response at Formartine.
"If we were able to string together a late run of results, potentially we could move from 15th place to ninth in the table as there are only eight points separating 15th and ninth spot.
"We can't really look too much into that, we've just got to take care of the games as and when they come, but if we could win each one of our remaining five games that would be ideal."
The Jags are without three players through work commitments, goalkeeper Michael MacCallum, full back Lee Wilson and midfielder Davie Watson.