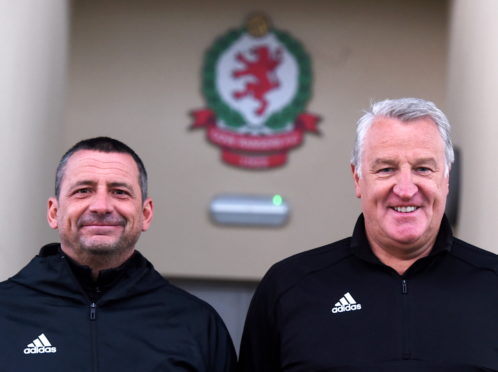 Cove Rangers manager John Sheran is playing his part to help his side make a winning start to the SPFL pyramid play-offs, despite being unable to travel to East Kilbride.
Sheran is back home and recuperating well after suffering a heart-attack last Sunday and won't be making the journey to the K Park for this afternoon's first leg tie against the Lowland League champions at the K Park.
Co-manager Graeme Mathieson and first team coach Roy McBain will take charge but Sheran has been in constant contact to ensure the team is ready for their most important match of the season so far.
He said: "Thankfully John got out of hospital on Wednesday and he is progressing really well at home.
"He definitely won't be anywhere near a football ground over the next few weeks but I have spoken to him every day so nothing changes there.
"I've encouraged him to go and put on the kettle, but he still comes back at me to point something out. John will be doing his bit and we will keep in touch on the day.
"But John, Roy and I have worked together as a team for a number of years and he trusts us to do the job.
"The boys are all together. I told them on Monday night that I shouldn't really need to motivate them to go into a crucial tie like this to get into the SPFL.
"But if we needed any extra motivation then there isn't anything more needed than the fact their manager is going to miss the big game because he has suffered a heart-attack.
"We would all love to do it for the club, but first and foremost we want to do it for John, who has been with us for all those years."
Mathieson is expecting a tough encounter against East Kilbride.
He added: "We are doing everything in a professional manner, including staying in Bothwell just 10 miles from the ground the night before.
"We were hopeful that we were going to win the Highland League a few weeks ago so we had obviously started the process of getting East Kilbride watched and starting to do our homework on their squad.
"We are now all prepared and over the last couple of weeks we've all been involved in making sure the training was directed towards the play-offs, and of course John was part of that as well.
"East Kilbride play on an artificial surface similar to our own. That's fantastic as the difficult thing we've found this season is playing on our own artificial playing surface one week, then a bobbly and fiery grass pitch the following week.
"We have a fully fit squad at our disposal with 20 players ready and willing to go. The most difficult thing for me to do now is telling two of those players that they won't be involved in the game."