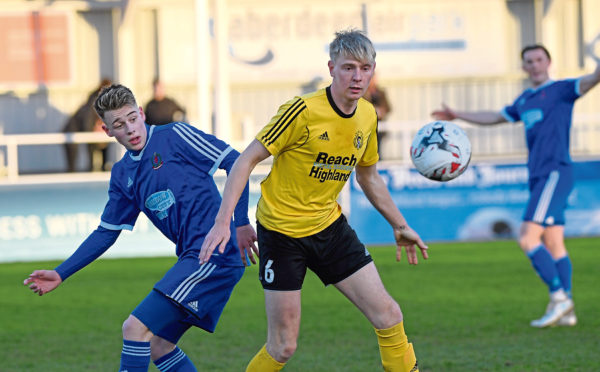 Adam Porritt is excited about the prospect of playing up front for Nairn County this season.
The 25-year-old started off his football career as a youngster at Ross County playing as a forward before being converted to a defender.
He said: "When I was a kid at Ross County I played in numerous positions but when I went full-time it was the current co-manager, Steven Ferguson, who saw me as more as a centre half.
"I just wanted to play so I didn't mind and I still don't mind where I play as long as I get a regular game.
"It turned out I wasn't too bad a centre half so when I went to Nairn, after my spell up at Brora, I also played in numerous positions.
"It looks like our manger Ronnie Sharp is looking to try something different at the start of the season and we'll see how it goes.
"It was a real blow when we lost our top scorer Jordan MacRae to Cove Rangers before the start of last season. Some boys, such as Jordan, are able to make scoring goals look easy.
"Hopefully we can find someone to replace Jordan's goals to help us move further up the table than the 11th place we finished last term."
Porritt added: "I'll play anywhere on the park the manager wants me to. Ronnie and I have a running joke between us, that I've been really itching to play up top for quite a while.
"I have scored quite a few goals for Nairn in recent seasons coming from a more defensive position, so you never know, I may just be able to contribute quite a few more from a more attacking position in the season ahead."
Porritt felt last season was a mixed bag for County, adding: "We always start of the season pretty strongly.
"And for some reason we also seem to finish strongly as well.
"It's just the big patch in the middle of the season, when there's a lot of games, that let us down.
"We have quite a young squad at County but this will be our third year together without too many disruptions.
"I would like to think that we could kick on.
"Our away form isn't too bad.
"But our home form has been particularly disappointing.
"That's a shame as we really have a good regular support at Station Park.
"We beat Formartine United in the final game of last season.
"So hopefully we can carry on from there this time around."
Factfile
Ground: Station Park
Colours: Yellow and black
Honours: Highland League champions 1975-76; Scottish Qualifying Cup 1968-69, Highland League Cup 1963-64, 2010-11; North of Scotland Cup 1956-57, 1962-63, 1963-64, 1965-66, 2005-06, 2008-09, 2012-13; Inverness Cup 1975-76
Manager: Ronnie Sharp
Season 18-19: Finished 11th
Manager's view
Nairn County manager Ronnie Sharp feels it is imperative his side improve their strike-rate this season.
Losing centre-forward Jordan MacRae to Cove Rangers at the start of last season meant County struggled for goals.
Sharp said: "We're looking for a little bit more from the players this time around as last term we were pretty much on a par from the previous season.
"We didn't get as many points but there wasn't much between the eighth and 12th place finishers in terms of points and performances.
"Jordan left to go to Cove the week before last season started and that put us on the back foot straight away.
"Towards the end of last season we had two or three boys filling the striker's role. Hopefully one of them will be able to nail down that position.
"Liam Shewan came in from Clachnacuddin last term and played in attack, while our defender Adam Porritt also played up-front on occasion last term.
"Adam started his career as a youngster at Ross County as a forward before they moved him back into defence and I'm sure he can fulfil that role.
"Dylan MacKenzie can also do it so we have options."