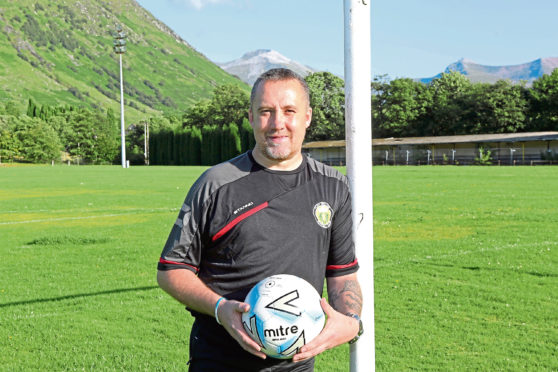 Russell MacMorran admits it was a difficult decision to step down as Fort William manager but hopes to depart with a win in his final game in charge this afternoon.
MacMorran will step down as Claggan Park boss following today's meeting with Wick Academy at Harmsworth Park.
The 43-year-old replaced Kris Anderson as Fort's interim boss 12 months ago before being appointed on a permanent basis in May.
He guided the club to a first win in 840 days when they defeated Nairn County 5-2 in the North of Scotland Cup in July before Fort claimed their first league win for 29 months with a 1-0 success against Clach in September.
MacMorran has been signed off from his job as a police traffic road officer after being diagnosed with post-traumatic stress disorder due to years of dealing with crash scenes.
He said: "I have mixed emotions about this being my last game.
"It is never easy to walk away but it is the right thing to do personally.
"I am looking to take a short break from the scene altogether, but I have no doubt I will be back helping the club at some stage in the future.
"My battle with PTSD is well-documented and being part of the club has really helped.
"Everyone associated with the club, including fans worldwide who have sent me messages, have helped with my recovery.
"But I need to take a step back because it has become overpowering.
"I need to concentrate on being with my family and taking that step back to full health.
"It is a long road to recovery and I didn't appreciate how long it was going to be.
"I want to go back to the job I love as I have been in the police for 17 years.
"I have been off since May 2018. I am doing everything I can to get in a position to get back to work, but that decision won't be made by me."
Along with ending their long wait for a victory, Fort enjoyed a memorable Scottish Cup encounter earlier this season when they earned a second round replay against League 2 side Albion Rovers with a 1-1 draw at Cliftonhill.
The Wee Rovers won 5-0 at Claggan Park in the replay.
MacMorran added: "Reaching the semi-finals of the North of Scotland Cup, only to be beaten by the eventual winners Brora Rangers and to go close to knocking Albion Rovers out of the Scottish Cup were two great highlights.
"The plan this season was to stabilise the team and improve the performances.
"Results haven't always gone our way, but we have made great strides this season compared to where we were 12 months ago."
Wick Academy manager Tom McKenna is hoping for his side's first home win in the league since September.
He said: "Irrespective of what is going on behind the scenes, I'm sure the Fort William players will do all they can to get a result and make life difficult for us.
"We have a better squad to select from for this weekend's game, which will ensure we have a team that will be competitive with the relevant quality to start the second half of our season on a positive note."