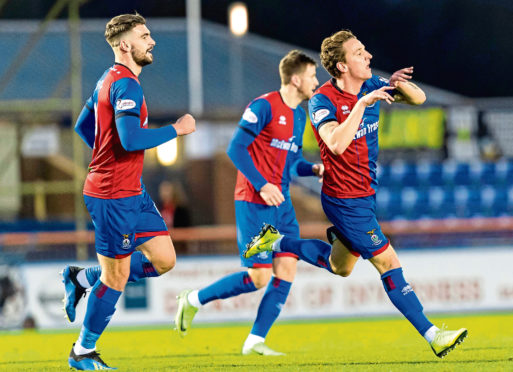 John Robertson, at this moment in time, must feel a little bit like a classical violinist trying to play Mozart's concerto no3 with a string Qmissing.
No matter how hard he works to fine-tune it in rehearsal, the harsh reality, once the theatre lights blaze down, is inescapable for the Inverness manager.
Put bluntly, as things stand, Caley Thistle are a couple of instruments short of an orchestra.
It was a theme Robertson picked up on without musical metaphor after an 11th draw of the Championship season at home to Dundee United.
Leading 1-0 in an increasingly fraught first half, the home manager glanced at the substitute's bench knowing fine well he was limited in what he could do to stem United's building momentum.
That is no slight on personnel present. There in the technical area were some highly talented young prospects alongside able, like-for-like replacements.
What Robertson's team cried out for, though, were seasoned individuals capable of adding something different to the mix.
Word within the camp suggests there will be new signings once the transfer window opens in January. For now, Caley Thistle can only make do.
They remain far ahead of where they were this time last year as credible promotion contenders, but disenchantment was voiced in the main stand after Billy King's 76th-minute equaliser.
The frustration of fans is to be expected, but the situation was crying out for perspective and a greater understanding of where Caley Thistle stands as a club.
United's wage bill, were it theirs, would bring out beads of sweat on the brows of Caley Thistle board members.
The Tannadice club's resources this season completely eclipse the Highlanders' yet, on Saturday, there was very little between the sides.
The hosts brought back Sean Welsh and George Oakley in place of Charlie Trafford and Jordan White, having previously shuffled the pack for a 6-1 Scottish Cup thrashing of Edinburgh City.
The breakthrough came for Inverness after 18 minutes with a stylish, sweeping move.
Joe Chalmers fed Liam Polworth and the Caley Thistle midfielder slipped a fine pass onward for Tom Walsh, who produced a calm finish from 15 yards.
United held sway through much of the rest of the half, but were thwarted by two brilliant Mark Ridgers saves.
After 28 minutes, a Fraser Aird corner picked out the towering figure of Pavol Safranko at the back of the six-yard box.
The Slovak's downward header was powerful, but Ridgers managed a terrific block.
Ridgers clutched another Safranko header before the break, but his final act of the first half was to brilliantly push away a 12-yard Matty Smith volley.
The leveller came with 14 minutes left as King unleashed a fierce left-foot strike low into the corner of the net from the edge of the box.
Safranko had a last-gasp chance of a winner, but from close in headed straight into Ridgers' arms.
In the end, the final whistle was music to Inverness ears. Robertson needs a few more strings to his bow.