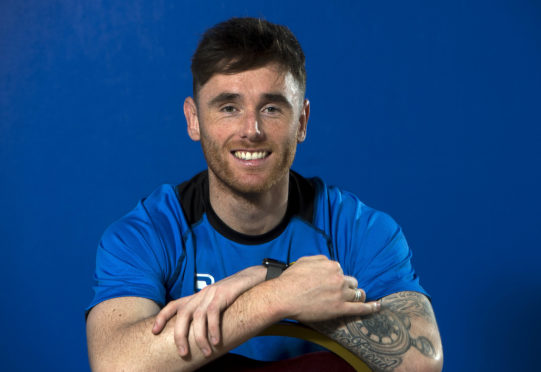 Greg Tansey is done with football.
There is no mourning, no regret, no wistful yearning for days gone by. In its stead is an eagerness to engage in the next phase of his life.
A two-year ordeal with a hernia injury and subsequent osteomyelitis diagnosis told the 2015 Scottish Cup winner the game was up. The rigours of professional football would not be worth the pain it would bring.
"I have sort of left football behind, but in a good way," said the Caley Thistle favourite. "The real problem is the unknown when you don't know what to do. I imagine that's the case with 90 per cent of footballers. You are in a bubble and laser-focused.
"It's been good to have a bit of time out and reflect on things. There's a bigger picture; I've lived and breathed football for 30 years and it's been my life. But it's a big world out there and there are a lot of opportunities if you've got a good head on your shoulders and good people behind you."
Botched hernia surgery in 2017 when he was at Aberdeen proved to be the start of the end. It required a corrective procedure and Tansey's contraction of osteomyelitis, a rare bone infection, left him struggling to walk. The extent of the problem was uncovered during a loan spell at Ross County and Tansey never kicked a ball for Aberdeen again.
He left this year for Paisley and St Mirren, with the aim of rediscovering his old self. The illness flared up again and when the Buddies refused to pay for his surgery, due to it being a pre-existing condition, the bill had to be paid out of his own pocket.
"After what happened I wanted to go out on my own terms. It's hard to deal with at the start but paying for my own surgeries was the straw that broke the camel's back. But I don't want to be one of these people that lets one mistake define them.
"I've always worked as hard as I could. I was just in the door at Aberdeen and their fans never really got to see me. I've sort of erased that moment in my life; the first couple of months I was finding my feet and getting into the way Derek McInnes wanted me to play. I just felt a niggle, a normal hernia and I've had the operation before. The operation didn't go as well as it should have and here I am two years later. I can't train or kick the ball the way I want to two years later.
"Before I went to Aberdeen I never had an injury. I don't think I missed a game at Inverness, other than through suspension. I remember playing Hamilton on the Tuesday and me and Carl Tremarco had a bug, so we had to get driven down separately with the physio so we didn't spread it to everyone else. I missed a pen and we got beat.
"We played Dundee on the Saturday and I scored, although I don't know how as I was sick before I took a free-kick. I scored late on to make it 2-2.  We played Partick Thistle the following week and it still wasn't out of me – I was sick again after the game. I'm not the type to shirk out of a game. I've always been one to just shake things off."
Across two spells with Inverness, Tansey scored 32 goals in 191 games and was part of the 2015 Scottish Cup winners. He scored in the semi-final win over Celtic, a year after scoring in the League Cup semi-final against Hearts to book the club's place in its first major final.
The 30-year-old started his career at Stockport County and joined Inverness in 2011. He played a season for Terry Butcher before leaving for Stevenage at the end of the season.
He returned in January 2014 and was a key part of John Hughes' side that finished third and qualified for Europe for the first time.
A pre-contract agreement with the Dons was agreed and he joined after Caley Thistle were relegated from the Premiership two years ago. He managed 14 appearances for the Dons before injury hit, with his last appearance coming in the 3-0 defeat to Rangers in November 2017.
A loan move to Ross County was ill-fated last year, as the injury restricted him to just three appearances.
Tansey left Pittodrie for St Mirren earlier this year and played eight times before the osteomyelitis resurfaced. He negotiated his release from the Buddies in August after they refused to pay for the operation he required.
Every footballer knows when they sign their first professional contract that it will eventually come to an end. Today is that day for me, an injury that I have been fighting for 2 years now has ended my career. I am… https://t.co/Hzx42aD5k6

— Greg Tansey (@GregTansey) October 3, 2019
He trained part-time with Warrington Town, alongside ex-Caley Jags team-mate David Raven, after his release but the pain was still too great.
"I went for a kickaround the other day and came in hobbling. Obviously I haven't gone out on my own terms but I was told before at St Mirren that I should retire. I ignored that and tried to carry on. It's not nice to hear but footballers are very driven and I'm no different to that. This is the best time to do it – my body is telling me now.
"At least I've left a tiny imprint on somewhere. You've got to look at the good side of things; it's been on the cards for a while and I've tried out part-time. I've given it all I can. It's been a tough two years to be honest but I've come out the other side. I'm looking to venture into a new chapter in my life."
He has moved back to his native Merseyside. Tansey and his fiancée Victoria are due to get married next year and he is on the lookout for a new job.
Property investment is also on the cards and, if time allows, Tansey would like to start his coaching badges. For a man who seemingly had zero options a few months ago, doors are opening in front of him.
"At the end of the day it hasn't worked out, I'm just looking to move on with fond memories. Inverness was the best time of my career and the most enjoyable time of my career.
"I've started a university degree and there's a lot of things I want to do in life. I was hoping to play until I was at least 35 but these things happen. It's happened to people earlier than me – I'm just happy I've achieved a few things on the way. Inverness, at heart, will always be the club I enjoyed the most. Along with Everton, it'll be the first result I look for.
"I'm in a good place and the main thing is, I have a plan."