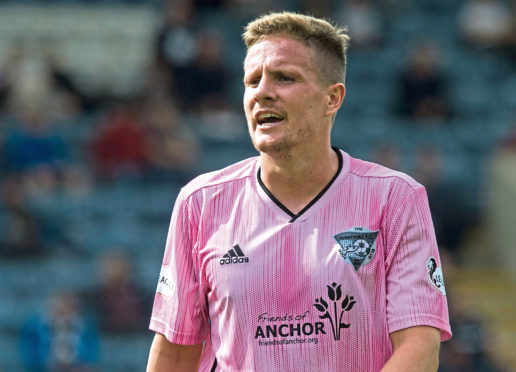 Simon Ferry says he's worried about the impact the coronavirus crisis will have on footballers.
Many players across the country, including Ferry and the rest of the Peterhead squad, are currently furloughed.
However, most players – particularly in the lower leagues – will be out of contract come June and with no idea of when next season may start clubs may not be able to offer new deals for months.
Ferry is already contracted for next term, but he knows for many footballers the current crisis could lead to a significant drop in income.
The Blue Toon midfielder said: "For players it's difficult to talk about because even at part-time level your wages keep a roof over your head or put food on the table.
"This has come at a bad time for players as well because I know there aren't many of us at Peterhead under contract for next season.
"And it will be the same at other clubs and the clubs might not want to give out new contracts because they don't know what will happen or what money they'll have available.
"It's not easy for players – everyone thinks we have a great life – but it's tough for guys in the lower league.
"We only get paid 11 months of the year, we don't paid in the summer, for that month without money coming in will be hard for people to get through.
"If you add in people not getting a contract and three or four months without football wages it's going to be hard for players.
"It's not like we've all got loads of qualifications and we can go and get jobs easily, we don't all have great jobs away from football.
"In the current climate as well it's even harder to get jobs.
"I was thinking about looking for a wee delivery job to keep myself busy, but there's nothing going.
"I feel for boys because we've all been affected and there are young guys with a wife and children who are finding it a real struggle that I feel for.
"But everyone is in the same boat and I know there are people worse off than footballers."
Prior to the introduction of the government's furlough scheme Ferry was one of a number of Peterhead players who, along with management team, had agreed to give up his wages to help the club also help his team-mates who couldn't afford to.
The 32-year-old, who works hosting interviews and podcasts for Open Goal, says forgoing his wages if it would help others was quite a straightforward decision.
The former Dundee, Portsmouth and Swindon player added: "It was quite an easy decision for me to make to give up my wages.
"I'm in quite a fortunate position that I'm still working with Open Goal and still getting paid.
"So it was no-brainer for me and Scott Brown, Derek Lyle and a couple others who offered to do the same because if us giving up ours for a while can help another guy in the team and help the club then it's an easy decision for us to make.
"I think that's why the dressing room gets on so well because we all try to help each other.
"Scott Brown's the captain and he's been brilliant throughout this.
"He's still got a full-time job but he's been in touch with the PFA every day, he's kept the boys up to date withe everything, he came up with me to meet the chairman (Rodger Morrison) before lockdown.
"Scott has been great and he deserves a lot of credit because he's done everything he can to help the boys, he's been brilliant."