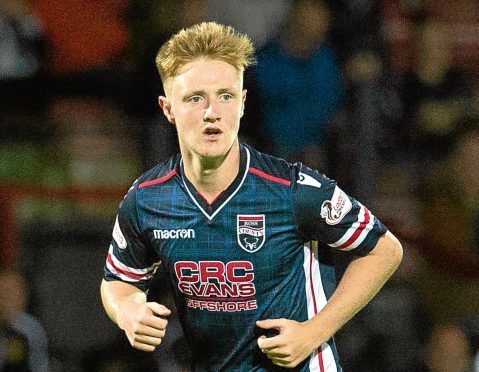 Ross County midfielder Davis Keillor-Dunn has vowed to keep Staggies supporters on the edge of their seats after signing a new contract to keep him at Dingwall until 2020.
Keillor-Dunn yesterday signed a two-year extension to his Victoria Park deal, which had been due to expire next summer.
The midfielder, who will be 20 tomorrow, has made an instant impact since stepping up from the Development League side in the summer, starting all five games under new manager Owen Coyle so far and scoring his first goal in a 2-1 home defeat by Hearts last month.
Keillor-Dunn had no hesitation in extending his stay at the club and is determined to keep entertaining the Dingwall faithful.
He said: "I'm delighted the manager has faith in me and wants to play me. With our recent form, I think I've done well and repaid him. Hopefully, he keeps selecting me and we can go from there.
"I can't let any stage affect me because it will harm my performance. I will go out and do what I can – don't leave anything in the changing room, don't come in thinking I could have tried this or taken that shot.
"Just go and do it – and get the supporters off their seats. That's what they pay the money for.
"The manager will say, whenever I get into the final third, never be negative. Everything the manager does, I'm buying into it – as are all the players."
Keillor-Dunn was born in Sunderland but qualifies to play for Scotland through his Dundee-born paternal grandfather, Marshall Keillor, and he is determined to do all he can to catch the eye of under-21 coach Scot Gemmill.
Keillor-Dunn added: "I knew I had a great opportunity to play for Scotland.
"I believe the SFA was in touch with the club with a few medical questions and eligibility. Hopefully, I'm in their sights.
"That would be massive for me and for the club. It would mean a lot for a team in the Highlands."