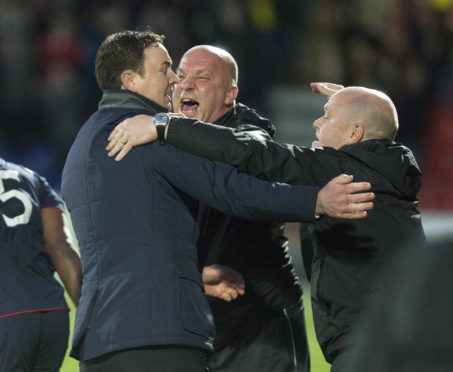 A heart-broken Steven Ferguson paid tribute to the huge influence Neale Cooper had on his life after the former Ross County manager passed away yesterday aged 54.
Ferguson played with Cooper, an Aberdeen legend, at Dunfermline and worked with him on the coaching staff at County, and struggled to put Cooper's profound impact on him into words.
Cooper was found in the stairwell of a block of flats in Aberdeen in the early hours of Sunday morning and was rushed to hospital. His passing was confirmed by Aberdeen shortly after 6pm yesterday.
Tributes poured in yesterday, with former manager Derek Adams, chairman Roy MacGregor and fellow co-manager Stuart Kettlewell expressing their sadness at the news. Having worked alongside him for so long and known him personally, the news was devastating for Ferguson.
He said: "He was unbelievable – the biggest influence on my career. I was at Dunfermline with him for three years and played with him as a young boy, when he was finishing his career. He took me to Ross County and I was there with him for seven years. He played a massive part in shaping my career; the influence he had, I couldn't put into words. He came back on the coaching staff under Derek Adams and I had another couple of years working with him very closely. We knew each other's family with the amount of time we spent together. It's heart-breaking.
"Everyone will have fond memories of Neale. He was larger than life, full of fun and full of everything that made you smile. He was a bloody decent man and he was a huge influence for me, on and off the pitch. For someone as a young boy making his own way into the game, he was the one you looked up to and wanted to be.
"There's only one way to remember him – smiling and laughing. Everyone will be the same. Neale was larger than life – he lit up the room and people just wanted to be around him. He had a profound effect on everyone he touched. He leaves behind three kids and our thoughts are with Sally and the family, as he's going to be a massive miss in their lives.
"I can't speak highly enough of the guy. My wife and kids – he had an effect on on them, like he did with everyone. I've never seen anyone else like him. He was everyone's mate."
Cooper was County manager between 1996 and 2002, taking them out of the Third Division in 1999 and the Second Division a year later. He joined Hartlepool United as manager in 2003 and took them to the play-offs, before a brief spell in charge of Gillingham in 2005. He returned to management with Peterhead in 2008 and spent three years at Balmoor, before a second stint at Pools.
Adams brought him back to Dingwall as assistant manager in 2012 and he left at the end of the 2013-14 season.
County chairman Roy MacGregor, who first brought Cooper to Dingwall in 1996, was left in shock at the passing of a close friend and an integral part of the club's history.
MacGregor said: "He's a legend of the club. Without him and Bobby Wilson, the Ross County journey would never have got started. When he came to the club we lost the first seven or eight games but it didn't get him down. Even that period where he probably would have been questioning himself, he was still bubbly and full of life.
"Neale was a colleague and a friend. We came together when he didn't know much about management and I didn't know much about chairmanship – somehow we clubbed together and had some great times. There was no-one more proud of us getting to the Premiership or winning a cup. He had an infectious personality and was a special person. I just can't believe it."
Adams brought him back to the club in November 2012 and was effusive in his praise of the Gothenburg Great, who won the Cup Winners Cup with Aberdeen in 1983.
He said: "I'd known Neale for many years, since I was six or seven years old. He signed me for Ross County as a player and became my assistant. He was a very funny character, witty and good in the dressing room, as a player and manager. He'd been a manager before and I find it helpful dealing with people who have had that experience.
"He was always one that would have a bit of banter with the players but as a man, his best quality was when he spoke to people, he encouraged them and made them feel better than they were. I remember him as a jovial character that lit up the dressing room as a player, manager and assistant manager. He was the one that made everyone laugh and you need that in any walk of life.
"He took me from Ross County to Burnley. I played up front, scored goals and got the move to Motherwell that helped my career. He was a big part in me getting to play in the Premier League."
Stuart Kettlewell, current County co-manager, played under Adams and Cooper and spoke of the 54-year-old's qualities as a man, not just a footballer.
He said: "Every day he was high on life and from my point of view, trying to make it at Ross County, he just looked after me so well. I socialised with him and he was just a fantastic guy to spend time with. I saw him at Pittodrie at the start of March – the weather was terrible and myself and Steven had just taken interim charge. I don't think there's a more hearty guy to see off the back of what happened.
"I appreciate working men and guys that have achieved something, guys that can tell a story. Neale's stories were never without substance and always blew you away. He was someone who always had a smile on his face and unseen in football. If anyone had a proper story to tell in football that might inspire people, then that's Neale Cooper."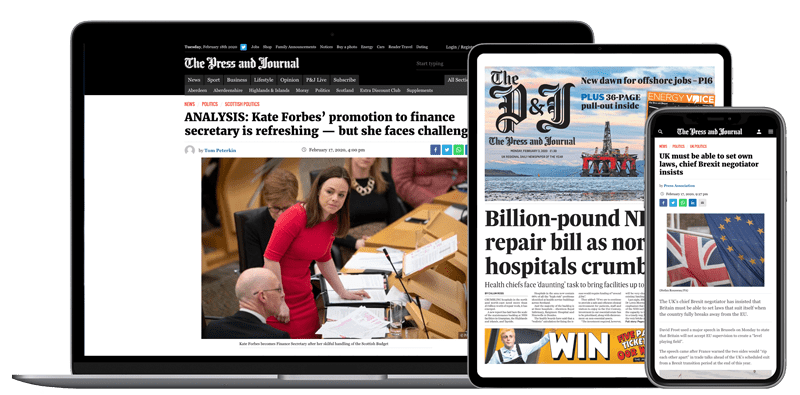 Help support quality local journalism … become a digital subscriber to The Press and Journal
For as little as £5.99 a month you can access all of our content, including Premium articles.
Subscribe