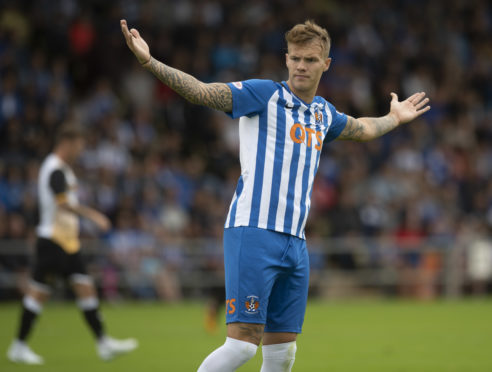 Ross County are still trying to secure international clearance for striker Lee Erwin to face Hamilton Accies in Saturday's Premiership opener.
Erwin joined the Staggies on a two-year deal from Iranian side Tractor last week, ending an unhappy year-long stint in which he did not feature beyond November.
Despite completing his move last Tuesday, Erwin was not registered in time to feature in Saturday's 2-0 friendly victory over English League Two side Carlisle United.
The Staggies had similar frustrations in attempting to receive clearance for Power, due to a loan stint he spent with Dutch club Dordrecht last season, and Ferguson is hopeful Erwin will be free to play against Accies.
Ferguson said: "We are caught in the international clearance thing again.
"We need to make sure all that stuff is taken care of. It's out of the hands of Stuart and I, it's an administration job which is still ongoing.
"Lee is training hard and champing at the bit and wants to be involved.
"It is frustrating, because we see him being a big player for our group. From the bits we have seen in training, we are already excited he is here.
"We knew enough about him to be excited to bring him in, but he has reaffirmed that when we have seen what he's capable of."
Ferguson also confirmed on-loan Norwich winger Power has been ruled out of Saturday's match due to a hamstring injury.
Irishman Power suffered the injury towards the end of the victory over Carlisle, after coming off the bench to net the opening goal against the English League Two outfit.
Although the full extent of Power's injury remains to be discovered, Ferguson says the visit of Brian Rice's side will come too soon for the 21-year-old.
Ferguson said: "We are not 100% clear on how bad it's going to be. It's still settling down.
"It's getting better, but he will not be available for Saturday. We are still not sure quite how long that's going to keep him out for.
"He's a fit, young lad so I'm sure he will be back in no time.
"We brought him to the club for that pace and making an impact – whether starting or coming off the bench.
"In the couple of home games he's had, he's come off the bench and been able to show what he's capable of.
"He's the type of player that excites people, and is really dangerous to the opposition.
"He will be a miss when he's not available, but hopefully he will not be too long."