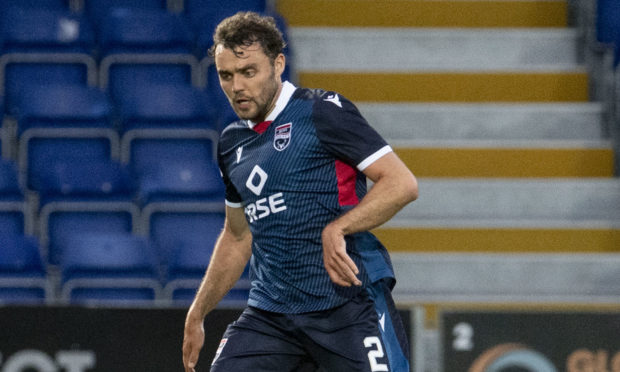 Connor Randall insists his experience in Bulgarian football has prepared him for the reality of playing in front of no crowds with Ross County.
Defender Randall spent last season with Bulgarian First League outfit Arda Kardzhali, prior to joining the Staggies earlier this summer.
During the renovation of the club's 15,000 Arena Arda, the Blue Wolves played a number of home games at other venues during their maiden season in the Bulgarian top flight.
With crowds still not permitted at Scottish games due to coronavirus, Randall says the present picture is not alien to him.
Englishman Randall said: "There were a couple of teams that had a bit of a following but there were a lot of games similar to what we are dealing with now – hardly any fans.
"I suppose I'm used to it now and closed doors doesn't feel too different for me – it's become the normal.
"There were a couple of teams with big followings. Our home ground was getting redeveloped so I never got to experience that and I had heard they had one of the better followings in the league so that was a pity.
"It was a mixed standard. There's some big clubs out such as Ludogorets there that play Champions League every year and are always competitive. It was a mixed level in the league to be honest.
"It was a new challenge that came up and I just thought 'why not?' It was an experience on the pitch but more so it was a life experience and was about taking myself out my comfort zone with things like the language.
"It's something I have learned a lot from in so many ways."
Former Liverpool defender Randall has slotted into a backline which kept two clean sheets in victories over Motherwell and Hamilton, prior to Wednesday's 2-2 draw against Kilmarnock.
Randall feels the defensive rigidity has been the result of the full team's efforts, adding: "When you get a clean sheet, people talk about the goalkeeper and the back four.
"I think it has been the whole team. You can see with the shape and the work-rate from everyone to track runners, everyone is pulling together.
"As a defender it has been nice to get a couple of clean sheets to start the season.
"But it comes from the whole team and how everyone is working together. It's always good to get a bit of a reward in that sense.
"If we said we would get seven points from the first three games at the start of the season, we would be happy with that.
"That's with a bit of disappointment we didn't get three points the other night. I think that shows the attitude and the way we are thinking going into games.
"It has been a good start, but it has only been three games so hopefully we can continue that for a long time into the season."
Randall, who previously spent a season on loan with Hearts, has enjoyed his return to Scottish football and hopes to continue the Staggies' momentum when they host Dundee United today.
The 24-year-old added: "It's good to be back. I enjoyed the league when I was here last time.
"As soon as I got back into it, it's just back to how it was.
"Without the fans it's obviously not the same, but that's just the way things are.
"I'm happy to be playing. It has been a good start and hopefully we can continue that now."