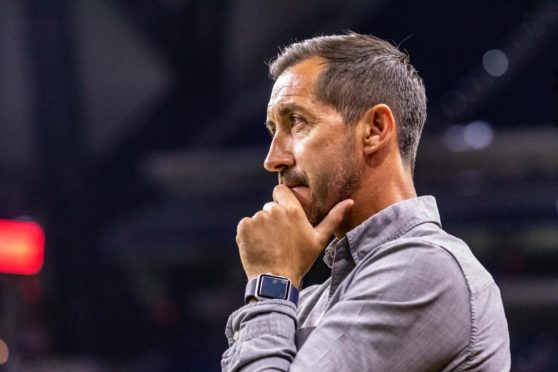 Over 3,500 miles separate Bettyhill, a remote village on the north coast of Scotland, and Indianapolis in America's mid-west.
The two places a world apart; Bettyhill is home to less than 200 people and enjoys an idyllic isolation. Indianapolis is a sports-dominated hub with a population of close to 900,000.
But the two are connected by Martin Rennie, head coach of Indianapolis' football club Indy Eleven who grew up in the far north of Scotland.
Rennie's father Cliff, who hailed from the Bucksburn area of Aberdeen, was a Church of Scotland minister in Bettyhill. The family moved to Larbert when he was 10, which accelerated his association with football.
"I always tell myself I'm the highest-profile manager to come out of Bettyhill," he jokes. "Someone will probably argue that but I think that's fair."
Indy play in the USL, the second tier of football in the States below MLS, and the club has grand ambitions to become a franchise in its own right. They have planning permission and funding in place for their own stadium, as they currently share the vast and impressive Lucas Oil Field with NFL outfit Indianapolis Colts.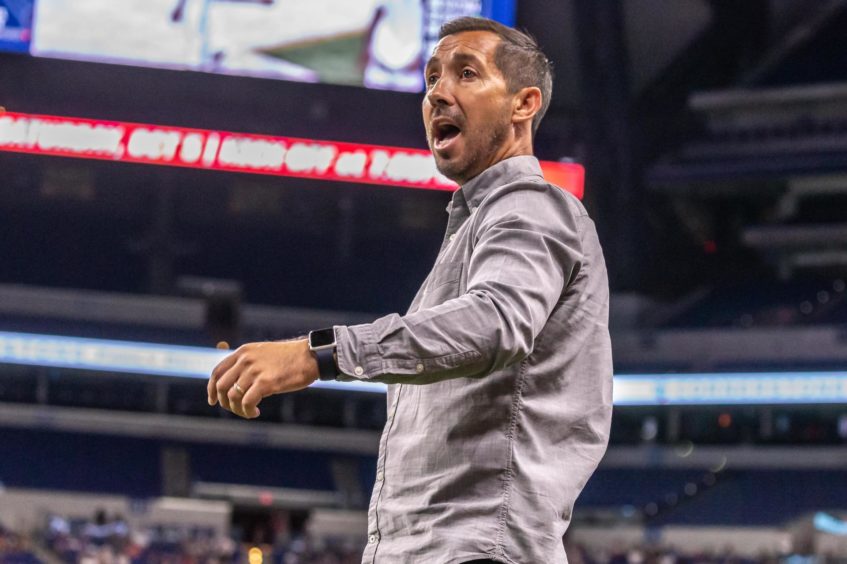 "We have a really good infrastructure, a really good front office," said Rennie. "We've got a lot of fans and an approval on a new stadium. When we have that stadium, we'll be compliant with what's required for MLS. I think MLS is always looking for good markets where there's a passionate fanbase, a good infrastructure and connection to youth football. We have that in place here so it's possible, definitely."
The big draw for the 45-year-old, who worked in sales and marketing for a software firm before embarking on a career in football, is being invested in all facets of the club.
"The biggest thing for coaches and players is generally, you want to be where you're wanted. If people are really excited about what you're doing and giving you the chance to develop your career, that's going to be where you're going to spend your time.
"With any club there has to be an alignment with what you're aiming for. They allow me to develop the football side of things – our tactics, what characteristics we look for in players, how we do youth development. It's unusual to get the opportunity to be involved in all those things.
"Each week I'm on a call with all the senior management team of the club, where we discuss the business side of it and how we make it more profitable, add more fans and increase our sponsorship.
"I'm interested in all aspects of the club and by having that connection with the front office and the playing side, it helps me enjoy the job more. I'm aware of everything that's going on in the club and what's required to make the club grow."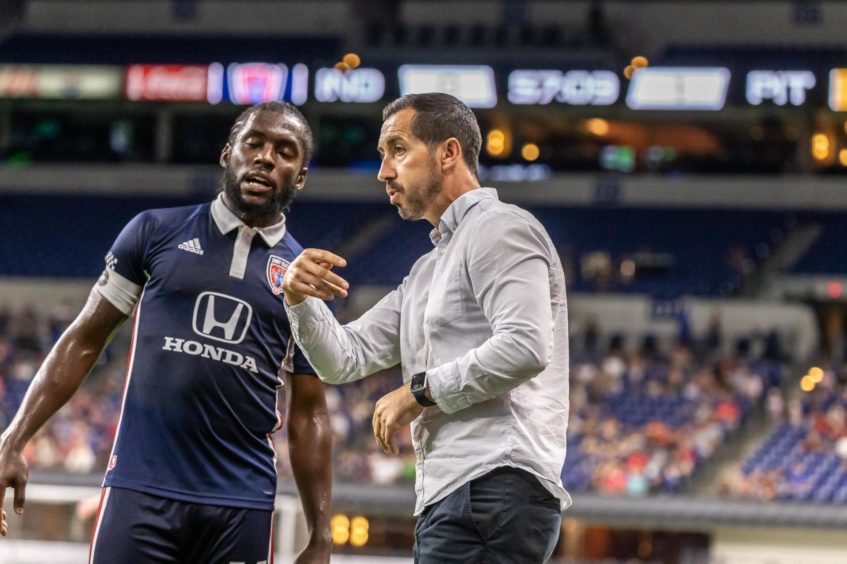 Sport and politics also seem more prominent bedfellows across the pond, or maybe athletes in US sports feel more comfortable expressing their views publicly on issues of social importance.
The Black Lives Matter movement gained worldwide momentum in the wake of George Floyd's killing by law enforcement in Minneapolis in May. Fuel to that fire was added last month with the shooting of Jacob Blake, who was shot seven times in the back by a police officer in Kenosha, Wisconsin.
Protest started with the Milwaukee Bucks – based in Wisconsin – boycotting their NBA play-off game against the Orlando Magic. Numerous teams followed suit in the NBA and WNBA, as well as Major League Baseball and MLS teams putting forward their own protests against systemic racism and police brutality.
The NFL has actively promoted voter registration through its social media channels and the Baltimore Ravens came out strongly stating their demands for change in the country.
Their demands for social justice pressed for charges in the killing of Breonna Taylor and shooting of Blake by police officers, urging Senator Mitch McConnell to bring the George Floyd Justice in Policing Act to the Senate for voting, establish a framework to prohibit racial profiling and reform policing standards, as well as fair and equitable prison reform.
Tennis star Naomi Osaka also took to the US Open courts wearing facemasks with the names of victims of police brutality on them.
Rennie's own captain, English midfielder Matthew Watson, elected not to take the field for their August 27 game against Louisville City, saying he was in no emotional state to after watching "so many black people gunned down like animals."
Tonight I found myself unable to take the field with my teammates. I did not refuse to play, I just emotionally could not find the strength to hold back the pain inside me after witnessing so many black people gunned down like animals.

— Matthew Watson (@mattwatson8) August 27, 2020
"We have to walk that line where we're a football club and we're dealing with people with various different ideologies," adds Rennie. "But I think the main thing is in terms of racial discrimination and inequality, it's unacceptable and as a club, a league and a sport, we really want that to change. The little we can do, we're doing.
"At the moment there's strength in numbers. It was four years ago (Colin) Kaepernick was kneeling for the national anthem and was almost ostracised because of it. But because you've got such a groundswell of support now, it's a lot easier for players when everyone is working together on something. It's not one person on their own; everyone is united against racism and wants to see change.
"This is something that's personal for each player and you have to give them space to make those decisions. If they ask for my advice then I'll do that but as a coach and leader, you have to give people freedom to express themselves. Being a dictator is not going to work, as society grows and changes."
Games have been postponed as a mark of  protest and players from both teams linked arms across the field for the NFL season opener between Kansas City Chiefs and Houston Texans last Thursday.
In the UK, high-profile names like Marcus Rashford, Raheem Sterling, Lewis Hamilton and England cricket Ebony Rainford-Brent have used their platform to raise important social issues.
A lot comes down to the individual, how strong their convictions are and how comfortable they are in the spotlight. Rennie offers a somewhat prophetic take on leadership, reflecting on his own role and those striving to make a difference.
"All of your experiences in life lead you to where you are today. Things that you've seen, done and been around help you be a leader and make decisions now."
---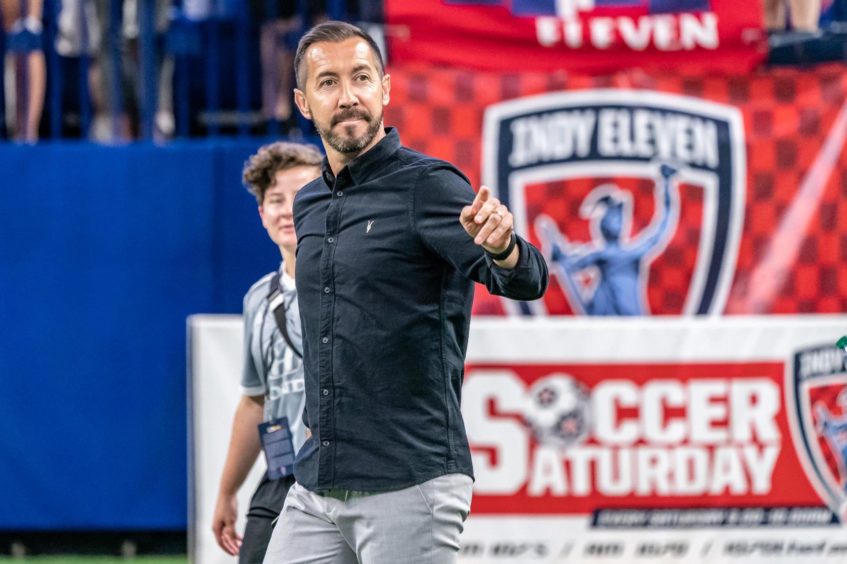 Rennie has crossed paths with some of north football's most recognisable names during his career.
He has worked at three separate clubs with Brian Irvine, the former Aberdeen and Ross County defender, as his assistant manager, while he brought current Dons coach Barry Robson out to Vancouver with him.
Another on his list is Stephen Glass, who started his career with Aberdeen and went on to play for Newcastle United, Watford and Hibernian, before finishing his playing career with the RailHawks.
Glass was recently promoted to interim manager at Atlanta United after stints with their under-17s and second team and remains a close friend of Rennie's.
"I speak to him quite often and bounce ideas off him," he says. "I brought him over initially and it's been nice to see him make the most of the opportunity over here."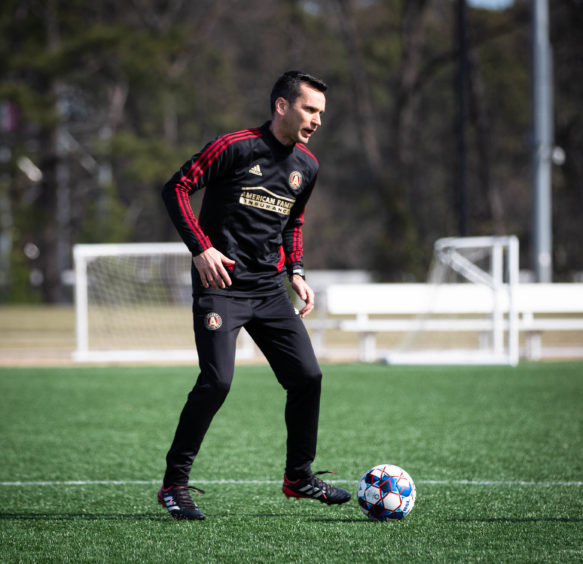 Glass, Rennie and Troon-born Neill Collins (Tampa Bay Rowdies) are flying the flag in the US for Scotland just now, with players such as Johnny Russell and Gary Mackay-Steven plying their trade at Sporting Kansas City and New York City FC.
There is an argument to say sports in America market themselves better than those in the UK, or Scotland in particular. Rennie's current club recently signed a deal that will see 15,000 children in the city receive Indy Eleven strips and give them an attachment to them from an early age.
"In Scotland people go to the games because they're from the area, or have an attachment to the club through their family. Here, they're competing for people buying a ticket for this instead of the basketball or American Football. There's much more focus on marketing and connecting with people."
Rennie paid his own way through his Uefa licenses and a charity trip to Africa in 2003, which also featured three American sides, led to his big switch State-side.
Rennie has worked in North America since 2005, with jobs at Cascade Surge, Cleveland City Stars and Carolina RailHawks earning him a crack at MLS within six years.
He took Vancouver Whitecaps to the post-season for the first time in his first season in charge but missing out on the play-offs a year later cost him his job. A two-year stint in South Korea with Seoul E-Land followed before his hiring by current club Indy Eleven in 2018.