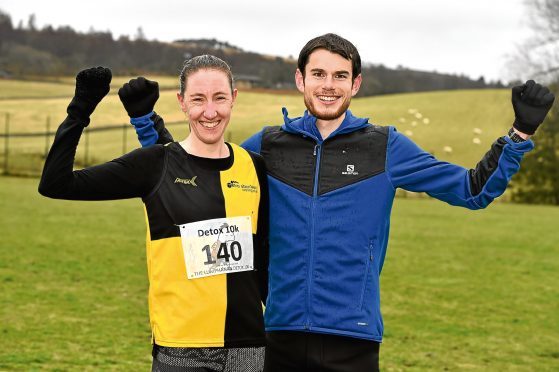 The contrast could hardly have been more marked for Deeside's international distance runner Robbie Simpson over the past couple of days.
On Hogmanay the Banchory athlete, who is to represent Scotland in the marathon at the Gold Coast Commonwealth Games in April, was racing through the streets of Paris against world-class opposition in the Corrida Internationale De Houilles 10km.
Simpson flew home on New Year's Day and yesterday he was battling along the icy roads and farm tracks around the Aberdeenshire village of Lumphanan, pursued by more than 400 other local competitors, in the annual Detox 10km.
The Scottish marathon champion was disappointed with his performance in France where he finished well outside his best time, clocking 30min 46sec for 24th position in a race won by Swiss-based Julien Wanders who recorded 28:02 to pip Ethiopia's Jemal Ymer Mekonnen by one sec.
Another Scot, Giffnock North's Luke Traynor, was 11th in 29:29, while Simpson's Commonwealth Games team-mate Callum Hawkins (Kilbarchan AC) was 12th in 29:33.
It was not the result the 26-year-old north-east man was hoping for and he set out to atone for it, in some small way at least, in the Lumphanan race.
The Deeside Runners club member did so in some style, breaking his own course record by 4sec to win for the seventh time in nine years, and finishing more than 4min ahead of his closest challenger.
Simpson said: "I was cutting it a bit fine but I am delighted to get the record especially after doing the 10km in Paris on Sunday and not getting much sleep with all the travel back here. I was really disappointed with my run in France. I'm not exactly sure what went wrong but after the first mile my legs felt empty and I was struggling to stay with the group.
"Then I was on my own and running into the wind I just slowed down. After 5km I thought I might not even finish but towards the end I had a guy to run with and that gave me a bit more focus. My training has been going well and I thought I was in good shape, so I had to find out whether Sunday was just a blip or something more worrying.
"So I thought I'd run at Lumphanan. I decided that if it didn't feel right today I'd just treat it as a raining run but if I felt good I'd go for the record. It was only into the last 100metres that I realised the record was possible, so I'm glad I just made it. I feel better now that I've done this race."
Hamish Battle (Metro Aberdeen), who was third last year, finished second in 34:53, with Owan Bristow third in 35:06.
Westhill 10km champion Paul Hadden finished fourth in 35:16, while Paul Pallister (Hardley Runners) was first over-40, fifth overall, in 35:27.
Donald Kerridge (Deeside Runners) was first over-50 in 38:20 while George McPherson (Metro Aberdeen) topped the over-60s division in 41:30.
Ballater's Fergus Wood was first junior in 40:18.