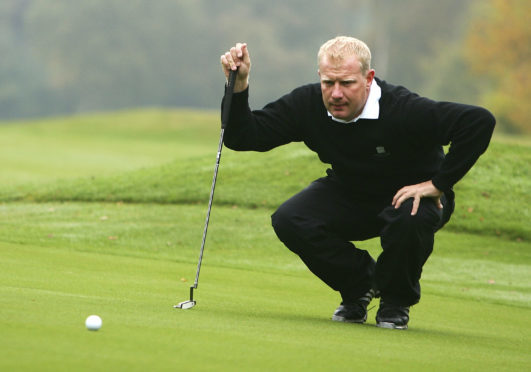 One word summed up the first round of the Aberdeen Standard Investments Scottish Par 3 Championship yesterday – brutal.
Strong winds made for a fierce challenge at Paul Lawrie Golf Centre with Lanark golfer Stephen Gray the only person in the field to break par in a testing first round.
Gray, who is two under par on 52, was relieved to take advantage of more favourable conditions.
He said: "The scores don't lie; they show we had it a little better.
"The leaders in the morning were three over, David Dixon was level in the second flight so I'm quite happy as I didn't know what to expect.
"I just went out and played golf, had a nice game and hit my shots. Tomorrow's forecast is better so I'll probably have to play better."
Englishman David Dixon is next best at level, a shot clear of European Tour player Jonathan Thomson and Scot Alastair Forsyth who are tied for third.
Dixon hopes this is the first of two events in Scotland for him in the next week.
He said: "I'm 11th on the reserve list for next week's Scottish Challenge at Spey Valley so hopefully I'll make it in. It's spectacular up there and hopefully I'll be involved.
"It was really tough. The wind was gusting, then it dropped, then it changed direction, so it was tricky to say the least."
Thomson, who hails from Rotherham, is the tallest professional ever to play on the European Tour at 6ft 9in tall.
The 22-year-old, who was given the all-clear from Leukaemia nine years ago, birdied the final two holes of final qualifying at Lumine to secure his tour card and is determined to make the most of his debut season.
He said: "This time last year I was playing in Montrose. I was speaking to a lad on the putting green and he mentioned that to me. It's been quite a journey.
"I've gone from getting into my car and driving to an event for three days a week to going here, there and everywhere on the main tour has been quite a change. Paul's old caddie Davy Kenny helped me get into this and Paul invited me.
"I was nearly blown over today, it was tough. I hit a 4-iron short at the eighth. It was 180 yards but must have been 225."
Newmachar's Greg McBain is two over while Connor Syme, fresh from his runner-up finish at the Shot Clock Masters in Austria on Sunday, is tied for fourth at three over.
Syme said: "It was absolutely brutal out there. It was so windy but good to play and the course was in great condition. It was good fun."
The leading woman is Vicki Laing who shot 58.
Edinburgh based Alan Tait was among those who found the conditions more challenging.
The Scot, who shot 60, said: "It's easier playing Carnoustie than it was out there. But it was still fun on a great little course."
Play resumes this morning with the leaders going out at 3.30pm.