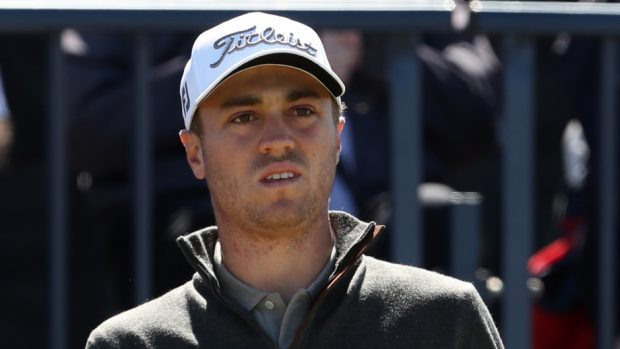 Justin Thomas already knows what it feels like to take a drink out of the Claret Jug.
But the American says winning the trophy is one of the major burning ambitions in his golf career.
The 25-year-old, who won the US PGA Championship last year, said: "I am usually one of those people who don't like to touch the trophy until I have won it but I drank out of it two years ago with (2015 champion) Zach Johnson.
"We were staying in a house together and Zach had to return it so we had some wine out of it.
"The Open is so unique and such a great golf tournament.
"This is one that I really hope to get at least once or twice or however many times in my career.
"I always get excited to come here no matter my form.
"I feel like you have to be so creative and so decisive or confident in what you're doing because you don't hit very many full stock shots.
"You're hitting a lot of knockdowns and creative shots, using the slopes.
"It can be pretty fun golf out there.
"It would mean a lot to win.
"I can't necessarily put it into words because I think it's just one of those things you can't describe unless it happens. It would be extremely special given the amount of history that goes into this tournament. I've always felt this would be one of my favourite wins as it requires such a complete game.
"At a lot of courses in the States you just hit it high and far, try to stop it close to the hole and make the putts, whereas here you really have to use all assets of your game."
Thomas believes there is an abundance of players capable of winning at Carnoustie this week.
He added: "The weather forecast for an Open championship looks pretty tame.
"But if you were to get in the wrong wave, like what happened at Troon two years ago, you are probably not going to have a chance to win.
"You look at those handful of guys that are in contention about every time they play.
"They or we, however I or you want to interpret it, take a lot of pride in that and practise very hard to get ourselves in contention as much as we can.
"I wouldn't feel right if I put my finger on a couple guys to win when I'm here trying to win the tournament myself."