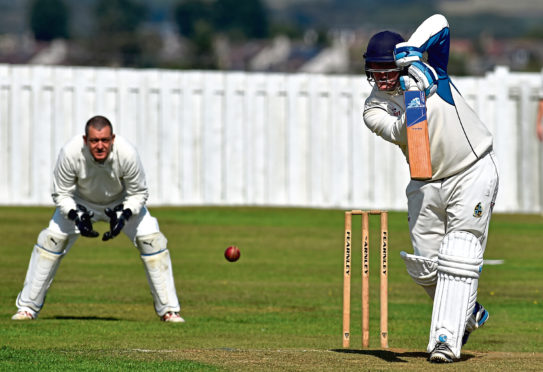 Stoneywood-Dyce captain Jack Mitchell has called time on his career at People's Park to return to his home club of Huntly.
The 26 year-old, who has spent the last five years at Stoneywood-Dyce, will become player-coach at Castle Park.
Mitchell said: "Things have changed in my work circumstances in Huntly, making it more difficult for me to to travel to Aberdeen three or four times a week, including 6am starts on match days.
"But there's no question of me stepping down for an easier life on the field.
"Huntly are a forward-looking club who, although only in the Strathmore Division 1 League set up, are eyeing a place in the Eastern Premier in the longer term and, given their playing resources, are in a position to deliver their ambitions.
"I am sad to be leaving the People's Park, where I have not only enjoyed my cricket with a great bunch of guys but had the benefit of the advice and inspired leadership of Jan Stander – our president and a former Scotland player – who has driven the club forward."
Stander paid tribute to the application of Mitchell and said: "Jack will be a huge miss on and off the field.
"I have never had issues with players going back to their roots.
"I wish him luck at Castle Park. He will be a big asset for them."
David Kidd, one of the young Stoneywood-Dyce players who has benefited from the leadership skills of Mitchell, said: "Jack has been a massive part of the development of youngsters at the club.
"His tenacity and willingness to challenge young players has created an atmosphere that has brought out the best in us."
Callum Whyte, the Huntly captain and wicketkeeper, has welcomed the arrival of Mitchell to the attractive setting at Castle Park.
He said: "Jack will be a welcome addition to our ranks.
"He is an outstanding batsman, and shares our ambition of going all the way to the top Scottish leagues.
"We have recruited well, and hope to step up a league in the 2020 season.
"We are a community club with a junior section of over 80 youngsters, all developing under the watchful eye of Neil Nicol.
"It promises to be a good year for us.
"We will also have Liam Ferguson coming with Jack from Stoneywood-Dyce."
The deep playing resources of the club include playing in the North of Scotland Cricket Association where the second team ply their trade.
This year it will also have a team in the Aberdeenshire Grades where it will play in Grade 3, plus junior sides who play on Sundays in the NOSCA setup.
All of this suggests Jack Mitchell's decision to make the move back to his old club might pay dividends in the not too distant future.
It also underlines the claim that the Huntly club is the cradle of cricket in Aberdeenshire, having produced top cricketers over the years, including the current president of Cricket Scotland, Willie Donald, who went on to play for Aberdeenshire and Scotland.
Other notable names include Calum Howard, a stylish left-handed batsman who also played at Aberdeenshire.
More recently, Kirstie Gordon played for both Scotland and England, suggesting junior convener Nicol is hitting the right spot in the Huntly setup.
Stoneywood-Dyce have yet to announce their new captain for the forthcoming season, although Stander acknowledges it will be difficult to replace the outgoing Mitchell.
Stander said: "He will be a hard act to follow, and one who learned quickly, as the new guy will have to do."
x​x​x​x​x​x​x​x​x​x​x​x​x​x​x​x​x​x​x​x​x​x​x​x​x​x​x​x​x​x​x​x​x​x​x​x​x​x​x​x​x​x​x​x​x​x​x​x​x​x​x​x​x​x​x​x​x​x​x​x​x​x​x​x​x​x​x​x​x​x​x​x​x​x​x​x​x​x​x​x​x​x​x​x​x​x​x​x​x​x​x​x​x​x​x​x​x​x​x​x​
x​x​x​x​x​x​x​x​x​x​x​x​x​x​x​x​x​x​x​x​x​x​x​x​x​x​x​x​x​x​x​x​x​x​x​x​x​x​x​x​x​x​x​x​x​x​x​x​x​x​x​x​x​x​x​x​x​x​x​x​x​x​x​x​x​x​x​x​x​x​x​x​x​x​x​x​x​x​x​x​x​x​x​x​x​x​x​x​x​x​x​x​x​x​x​x​x​x​x​x​