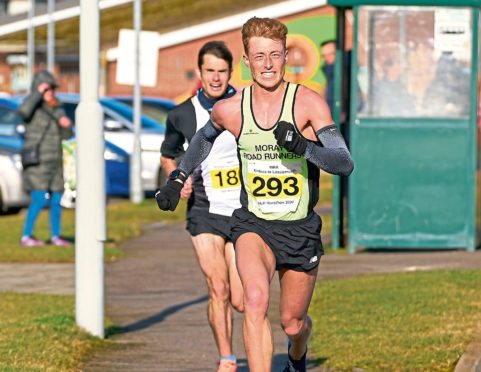 Kenny Wilson is relishing the prospect of facing some top quality opposition in Sunday's Inverness Half Marathon.
The Scotland international, and Moray Road Runner member, showed outstanding form earlier in the month when outsprinting Deeside's Commonwealth Games marathon bronze-medallist Robbie Simpson, to win the Kinloss to Lossiemouth half-marathon in a personal best time of 1:04:55.
While conditions were favourable, Wilson believes he can produce another fast time in the Highland capital.
He said: "I feel I should be able to run somewhere in the 65-minute range. It's a really good course and one capable of offering quick times.
"There's a bit of climbing until the halfway stage but if you get to that point in good shape it's quite fast after that. It also looks like there will be a good competitive field which is good as it helps generate better times.
"I've run here once before, in 2017, when I finished third. It was only my second half-marathon and I ran 1:08:37.
"I was happy with that but I'd be pretty disappointed if I did anything similar this weekend."
Wilson is pleased the race also features athletes of the calibre of Weynay Ghebresilasie (Shettleston Harriers) and Cameron Strachan (Metro Aberdeen).
He said: "Weynay won the Inverness race when I last did it and is running well at the moment.
"Cameron has also been in great form over the winter and it will be good to compete against him."
Ghebresilasie has returned from a spell of altitude training in Ethiopia and last weekend finished 12th in London's Big Half Marathon, recording 1:04:19.
Strachan recently ran a personal best 5km road time of 13:58 in Northern Ireland but subsequently pulled out of the Scottish cross-country championships because of illness. He is desperate to make amends for that setback.
He said: "I was originally going to run Inverness as a bit of fun after the national cross-country but because I missed that, I'm now going to give the half-marathon a bit of a bash. It has given me something to focus on."
Strachan is largely untested over this distance.
He ran two half-marathons last year, finishing third at the Isle of Skye race in 1:12:52 and second at Jedburgh in 1:11:14. However, he will fancy his chances of a faster time this weekend.
Others expected to put in strong performances include Kevin Wood (Fife AC), Will Mackay (Aberdeen AAC), Dougie Selman (Corstorphine AAC), Ben Ward (Metro Aberdeen), and Tom Roche (JS Kintore).