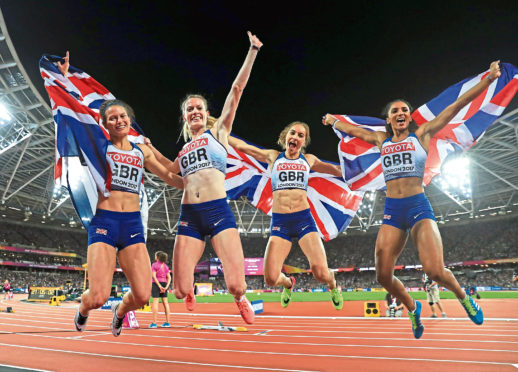 Aberdeen AAC's Zoey Clark admits she's far from confident that her dream of competing at the Olympic Games this summer will be fulfilled, but the 400m track specialist is pulling out all the stops to ensure she'll be ready if the opportunity does come along.
Despite the devastating impact the coronavirus pandemic has had on all aspects of life across the globe, International Olympic Committee president Thomas Bach said the body is still planning for the Tokyo Games to go ahead in July.
Clark, who has been a key member of the Great Britain 4x400m relay squad for the past three years, winning medals at world and European level, is not so sure.
She said: "We have been training for the Olympics for the past four years and it would be absolutely devastating for them not to take place – but we have to be sensible about health and public safety.
"The IOC appears adamant the games will go ahead, but it seems so unlikely.
"There's a lot of uncertainty, so at the moment I can't see it happening.
"The season hasn't got started yet and we don't know when it's likely to start, so we don't know when the trials would be or how we are meant to qualify. It would also be difficult for everyone to get into top shape in time.
"I'll continue to train with the aim of getting to the Olympics but there's always that doubt in the back of your mind that it won't be happening and that can take the edge of your motivation.
"Also, I thrive on training in a group environment and I get a lot of strength from that, but now we all have to train on our own which is difficult."
Despite these concerns, Clark is preparing as thoroughly as possible in case the situation improves.
Even missing a planned trip to Florida and the subsequent closure of the track and gym facilities at Aberdeen Sports Village hasn't distracted her.
She said: "I was looking forward to going to Florida at the end of this month for some good training and a few competitions to open the season, but that has obviously been cancelled.
"I don't know how long ASV will be closed but it could be a while. Although the running track is outdoors, access to that has been closed as well because it's part of the whole complex.
"But there are lots of other options.
"When the ASV track was closed for resurfacing in 2015 I trained on the grass at Kings College playing fields, so I'll probably do that again.
"It's a really good surface and it'll probably be good for me being on a softer surface after having had a slight Achilles niggle earlier in the year.
"There's also other tracks in the north-east I can use if I have to.
"There's full 400m tracks at Fraserburgh and Peterhead and a 150m track at Inverurie."