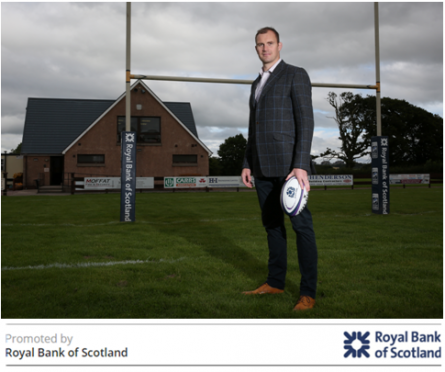 One grassroots team has a major boost as Al Kellock joins the board, while Chris Paterson hails the heroics of rugby volunteers…
As players who both began at local clubs, Scotland legends Chris Paterson and Al Kellock know the real benefits of growing the game of rugby at community level.
Royal Bank of Scotland RugbyForce has delivered both financial and practical support for many clubs across Scotland since 2009, helping them improve facilities and grow the game in the community.
Paterson, who earned a record 109 caps for his country between 1999 and 2011, and Kellock, who played for Scotland 56 times between 2004 and 2013, have both played a big part in it.
Last year, Annan Rugby Club were one of the lucky recipients granted the top package of £1000 through Royal Bank of Scotland RugbyForce.
As part of the award Kellock, the former Glasgow Warriors' skipper, joined their board for a year and they have been able to tap into both his rugby and business knowledge.
Kellock said: "I have found it very refreshing working with the guys at Annan. They have a great bunch involved on the board and elsewhere in the club and everyone has their own role to perform to help the club grow and earn more publicity in the local area.
"There are stories there of fathers playing for the men's team, mothers playing for the ladies' team and children playing in the youth section and that is brilliant to see.
"It also shows that rugby is a game for all and they have used the grant they received from Royal Bank of Scotland RugbyForce very wisely."
Chris Paterson also rates the success of the scheme: "I think the work that the Royal Bank of Scotland RugbyForce programme has done over the last few years has been invaluable.
"When I was growing up playing in Gala you could see the work that all the volunteers and club people put in behind the scenes to make sure that the pitches and the kit and such like were ready for game day.
"And now many years on things are still the same; volunteers are the lifeblood of grassroots sport and if Royal Bank of Scotland RugbyForce can help these clubs and these people in any way then it has to be a good thing."
He added: "Over the last few years I have been lucky enough to visit lots of clubs up and down the country. There are so many boys and girls picking up a rugby ball, getting down to the club on a Saturday or a Sunday, learning about the values of rugby and having a lot of fun – that is what it is all about."
Royal Bank of Scotland has long been a supporter of rugby, backing more than 140 Scottish clubs through RugbyForce.
To find out more and for the chance to win great prizes*, visit Royalbankrugby.co.uk
*Ts&Cs apply