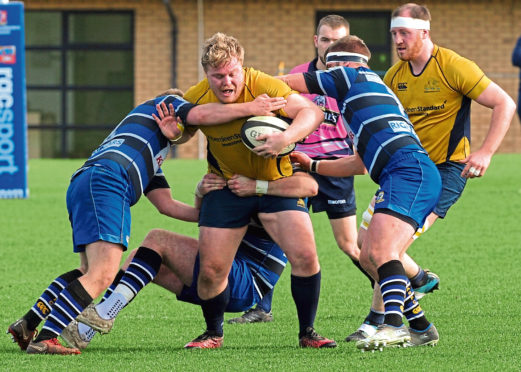 The rise of Gordonians in recent months has been one of the most uplifting stories of the winter.
Week after week, regardless of obstacles, the Countesswells collective have thrived in National League 3 and can wrap up the title with one more point against Orkney on the visitors' patch this Saturday.
Coach Ryan Morrice isn't taking anything for granted, as you would expect from this pragmatic bundle of energy, but he has been thrilled at the progress his side has made throughout the campaign.
He said: "I've been massively impressed with what we have achieved as a club so far.
"We talked as a group about being at the right end of the table come the end of the season and what we needed to focus on to get there.
"We got the belief we could challenge for promotion following the win at home to Newton Stewart, because they beat us home and away last season, so we knew we'd be gauging ourselves against them along with West of Scotland who came down from National 2.
"As well as what the firsts have achieved we've strengthened our ties with Robert Gordon University, Robert Gordon's College and the regional academy, so we can help in player development.
"Gregor Brown, who has been training with the senior squads and playing in the 1st XV, has recently played for Scotland under-18s, so it's good to be playing a part in his development.
"We still have things we need to improve on, our consistency of numbers in the seconds being the main priority, but we aren't the only side in the area with that problem."
Few teams relish the trek to Orkney, but there's a definite sense ordonians want to complete the job with a flourish, and if they can gain nine points in their last two fixtures they will have racked up 100 – which is a magnificent achievement.
However, don't mention that to Morrice.
He said: "We still need one point and Orkney are scrapping for survival, they are always dangerous at home and we will need to be on our game.
"But we will be going up with one of the strongest squads we've put out this season as everyone wants to be play in this game.
"We still have some targets that we want to achieve this season, which were set by the players, but the main focus on Saturday is going up to win the game.
"There are a fair few supporters planning on making the trip so we won't want to let them down as it's not the cheapest of trips to make and credit to them for giving up their weekends to travel.
"I know how much the boys will appreciate having some friendly faces in the crowd.
"But we are in a good place at the moment, and everything we look to do is for the benefit of the club.
"If we were just to focus on the first team we might make short-term progress but in the long term we will stall or regress.
"At the start of the season my own objective was to create an environment where players felt they can improve and challenge each other to do so without feeling criticised by myself or their peers.
"I think, for the most part I've achieved that, but it will always be a work in progress.
"We have a lot of work to do behind the scenes, but we have had some really good meetings with the SRU on how we can move the club forward in the future.
"We have a new after-match home at the cricket club (at Aberdeenshire CC) that we've settled into really well and Alan McLean has done a magnificent job in starting the (young) Pelicans and they are going from strength to strength every year."
It's a tale of success and raised standards. One can't see Gordonians slipping up at this stage.