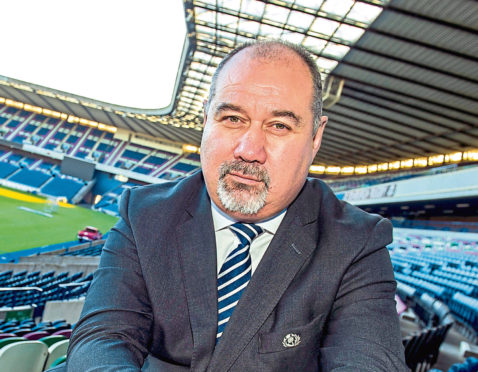 Scotland's hopes of forcing World Rugby to play their pivotal World Cup game against Japan tomorrow appear to be floundering despite Scottish Rugby CEO Mark Dodson claiming "in the court of public opinion, we've already won" in the case to have the game not cancelled.
Dodson appealed strongly to the rugby public over the heads of World Rugby after he conceded the governing body and tournament organisers hadn't flinched at the Scots securing a legal opinion that there is scope within the competition rules for a 24-hour delay if necessary.
World Rugby already cancelled two games today when Super Typhoon Hagibis is due to hit Tokyo and Yokohama.
Scotland's pivotal game against Japan in the 73,000-seater Yokohama International Stadium is subject to a review tomorrow morning of the damage and disruption that the typhoon – one of the largest and most powerful in Japan for decades – has caused.
If the game isn't played at 11.45am UK time tomorrow, it will be cancelled and, speaking to a packed press conference in Scotland's team hotel in Yokohama, Dodson conceded they hadn't shifted from that view.
Scotland remain convinced that the match should be played whatever the circumstances and feel there is a clause in the competition participation rules that can overrule the regulation that all games must be played on the original day scheduled, allowing a 24-hour delay.
They got a legal opinion backing that view from Nick DeMarco, a QC at a London practice specialising in sports law, but it doesn't seem to have moved World Rugby.
"We don't want to get in some sort of legal arm wrestle with World Rugby, we don't want to criticise them, but we do believe that we are being timed out in this competition, and being timed out is not a comfortable place to be," said Dodson.
"Scotland will be collateral damage and it is not something we will be prepared to sit back and take.
"I think in the court of public opinion, we've already won. I think you can see from social media, people feel that this doesn't feel quite right. We're not being strident, we're not being difficult. We want to compromise and we're asking for a 24-hour delay, so the game can be played in perfect safety.
"Right from the get-go, we said to World Rugby we will play any place, anywhere. We will play behind closed doors, we'll play in full stadiums. We will travel the length and breadth of Japan. There was no response to that."
The Scots are perplexed the "robust" contingency plans they were told were in place for issues such as this aren't even being considered.
"We don't feel it's just, we feel there's other ways," he said. "There's been massive amounts of contingency planning going on, but none of it seems to have been enacted.
"Our principle concern is for the safety of the general public. This country has a phenomenal track record of getting things back running once they've had major disasters – they are probably the best in the world at doing that.
"We're just saying, give them that little bit of time where the sporting integrity of this tournament is not compromised."
Many Japanese seemed still convinced that the game will go ahead and Dodson shares their belief that organisers will do everything possible.
"I'm convinced World Rugby and the Japanese authorities are doing everything they possibly can to get this game played," he continued.
"But, if their best endeavours fail for whatever reason, that's when we have an issue. Then it becomes out of our control. But what we want to do today, before the weekend, is give people a maximum amount of time to think about it and to look at the optics of this and to make the sensible change for everyone."
As to whether Scotland would seek further legal redress if the decision was to cancel, Dodson said that was a matter for then.
"Our view is that we have to reflect on that at that time," he said. "This is a world-class sporting occasion and we don't want to be the people that taint that.
"But we also don't want to be the collateral damage of this. This is important to us as a nation, and I think the rugby-following public around the globe believe the same way as we do, that we're being driven down a tramline around scheduling flexibility that doesn't need to be there.
"That's why we took the legal route. It was just to say we've had a different opinion, two different opinions, one from the QC, that challenges that rigidity over scheduling."