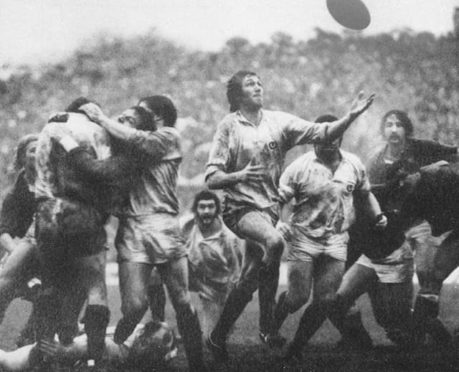 There was a time when the north of Scotland used to produce redoubtable rugby warriors who excelled at the highest level.
In the days of amaterism, these fellows often thrived in the farming sector, the law or science and flung themselves into the fray with boundless relish. But few packed as much into their lives as George Mackie, who died of cancer last week at the age of 70.
Even a cursory glance at his cv reveals the breadth of his passions, from politics to playing in the pack, gravedigging to keeping greyhounds, and agriculture to taking part in anti-apartheid demonstrations.
Living for four decades in Essex never impinged upon the Mearns accent of his childhood and his parents both came from long-established farming stock – the Mackies and Milnes.
The Mackies, who farmed around Laurencekirk, were an intensely political family of varying hues, and their son went on to graduate from the North of Scotland college where he immersed himself in both left-wing politics and rugby.
His friend, the former Labour MP Brian Wilson, recalled yesterday: "As the veteran of innumerable marches and demonstrations in the 1960s, George used to say he was always given the banner to carry because, at six foot five, he was the tallest.
"Years later, we discovered a shared experience from this period.  When the South African rugby team played at Linksfield Stadium [in Aberdeen] in 1968, the police tactic was to allow demonstrators to run onto the park before arresting us.
"The first 100, myself included, were charged and fined. The rest, George included, were bussed to the city limits.
"The difference was that George was embarked on a promising rugby career and, to say the least, taking direct action against the sport's establishment was unlikely to endear him to selectors.
"But it was typical of George's adherence to his principles that this would never have entered his head as a reason not to do what he thought was right."
While playing for Montrose in the early 1970s, he was persuaded by Nairn MacEwan to join Highland and supported himself by taking whatever jobs were going.
It was at this time he met Catherine MacLeod, who was then working with this very newspaper and later became special adviser to Alistair Darling when he was Chancellor.
When she told her father that he worked at Inverness High School, "he expected to meet the deputy rector or something like that". In fact, her beau was the second janitor, having previously been employed as a gravedigger. He had a lifelong respect for manual work and a healthy disregard for anyone who looked down on it.
Mr Mackie was part of the great Highland side of the 1970s and the only player to gain Scotland recognition while playing for the club.  He won four caps as a back-row forward –  the 1975 victory over Australia at Murrayfield; and the Five Nations Championship contests against France and Wales in 1976 and France two years later. He also took part in the 1975 tour of New Zealand.
Colin Baillie, who coached him at Highland, said: "He was an extraordinary ball player, great with his hands and he could run all day.
"He was one of the fittest boys I worked with. He led by example and was always there. On the pitch he would do any task and off the field he was the same".
In his later days, Mr Mackie loved watching sport and also enjoyed a gamble, which led to him embarking on another curious step into the unknown.
As Mr Wilson added: "At one point, three of us – (the Runrig singer) Donnie Munro and (BBC executive) Ken MacQuarrie owned the other legs –  were persuaded to join George in the acquisition of a greyhound called Althea's Delight which ran at Walthamstow [in London].
"It was an ill-fated venture, but it provided loads of laughs and that was reward enough for all of us. George always had a keen sense of the ridiculous."
When Mackie's rugby career finished, he moved south to a 500-acre farm in Essex and, latterly, was involved in a thriving business selling Christmas trees. He also became a Labour councillor in 1987 in an area traditionally ruled by Hyacinth Buckets.
His death has cast a shadow over his family and friends, but his deep-rooted principles, pride in his rugby achievements and unstinting joie de vivre will never be forgotten.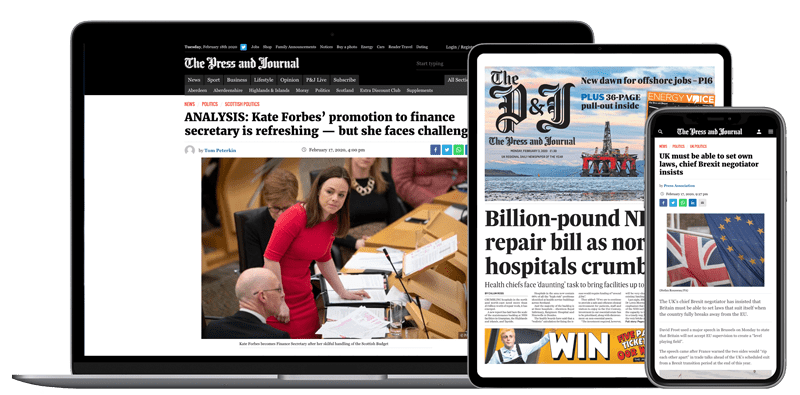 Help support quality local journalism … become a digital subscriber to The Press and Journal
For as little as £5.99 a month you can access all of our content, including Premium articles.
Subscribe