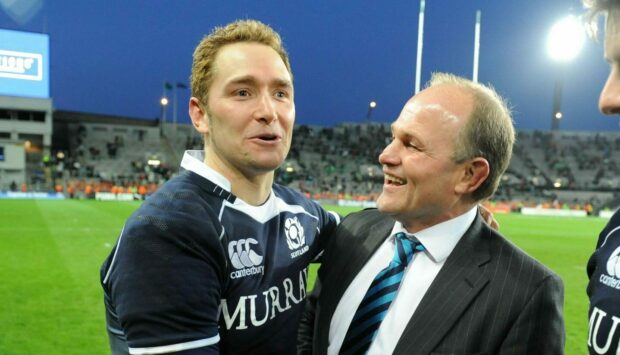 It's St Patrick's Day weekend, the last day of the Six Nations.
An in-form Ireland, fresh from an emotional win at Twickenham and a crushing victory over Wales, are going for a Triple Crown against Scotland on their national holiday. It's been 12 years since Scotland won in Dublin.
Even Jonny Sexton's at 10.
Yes, I'm actually referring to 2010 rather than this coming weekend.
If anything, the last time Scotland won in the Irish capital they were even greater underdogs than now.
The Scots had just one match point coming into the game, stemming from a dour 15-15 draw against England. They'd scored just two tries in the entire championship, both in an insane game in Cardiff that produced such post-traumatic disorder that it took several years to properly recover.
That was Scotland with Dan Parks at the helm and Andy Robinson in the coaches' box. We were a tough watch in those days.
Furthermore, Ireland still had their 'golden generation' team – Ronan O'Gara was on the bench, but everyone else was still going strong.
It was also the emotional last game of Ireland's temporary sojourn in the GAA's towering Croke Park before heading to the shiny new Aviva back in Landsdowne Road. All this and St Patrick's Day? Destiny surely gave the Scots no chance.
Memories of 2010? Mostly, hope
A huge moment from Dan Parks in Dublin 🎯#AsOne pic.twitter.com/lizimDCbLy

— Scottish Rugby (@Scotlandteam) March 15, 2022
What do I most remember about that weekend? About the game, mostly hope. As with every peak in the Scottish rollercoaster of form of the last 20 years, you sorely wanted to believe it might be the start of something.
We had the Killer B's, the back row of Beattie, Barclay and Brown. Cusiter and Blair interchanging at 9. A dogged front five. Dapper Dan and his sideburns, but nothing much beyond him, even on the rare occasions he chose to pass.
Later that year, Scotland won twice in Argentina, and beat the Springboks in the Autumn. Still good? Sort of.
They also got horsed 49-3 by New Zealand at home (the best NZ team of the last 25 years, but still) and barely held on to beat Samoa in Aberdeen.
Then came 2011. Another dire, one-win Six Nations. A World Cup where they lost key games to Argentina and England playing risk-free rugby and didn't get out of the pool.
2012 brought a Six Nations whitewash, Tonga at Pittodrie (shudder), and belatedly Robinson was dismissed. It took a further three years, until the World Cup of 2015, to get back to the 'hope' baseline of 2010.
It's all a bit familiar. It shouldn't be
Scotland v Tonga, Pittodrie Stadium, Aberdeen, 24th November 2012. (Pic: Allan Maciver) pic.twitter.com/ibVi6fiVa0

— PictureThis Scotland (@74frankfurt) July 16, 2020
All this sounds slightly – not even slightly, actually – familiar.
The current team have no residual memories or traumas dating from those times. Sexton is the only survivor on either team, Stuart Hogg the only Scot left who played in the Robinson era.
But the patterns are uncannily similar, if you think of Paris last year as a potential Scotland peak that Dublin was in 2010.
The real difference is Scotland are clearly much better now than then, both in actuality and potential. They may not be the championship-winning team they aspired to be six weeks ago, but they've got far more going for them than the 2010 team.
They can score tries from anywhere. They can defend – or at least hopefully they still can. They have a back row combination better than the Killer B's. They actually have some depth, although not as much as they think they do.
Scotland may not – probably won't – win in Dublin this weekend. This Six Nations has been a crushing disappointment.
But we shouldn't be doomed to another dark age like the early 2010s. They are better than then, and definitely should be better than they have been this current season.
The rest of 2022 is the time to prove that.
Stop being snowflakes
"I sometimes wonder if he recognises how bad that performance was there?"

Shane Horgan after Stuart Hogg's post-match interview.#ITAvSCO #GuinnessSixNations pic.twitter.com/mGlcVfNa3p

— Virgin Media Sport (@VMSportIE) March 12, 2022
There's outrage after every Scotland game on Twitter – I know, it's a permanent state there – at the scathing reviews of the Scots from Irish TV pundits.
Virgin Media Ireland have been tweeting these out no doubt in the full knowledge that it'll get a reaction from snowflake Scots fans. Irish rugby twitter, which while not quite up to South African or Welsh standards of trollery, weighs in and it all gets a bit messy.
For some inexplicable reason Irish TV continue to employ Matt Williams as an analyst. The dapper Australian is literally the worst head coach in the history of all the original Five Nations in the pro era. Three wins in 17 games with Scotland.
I think anything he might say – particularly because he's not had a serious coaching posting in well over a decade – can be safely and utterly disregarded.
However, there's nothing much wrong with what ex-players Rob Kearney and Shane Horgan have been saying. Ireland has its own broadcaster – being an independent country – and they show all the games. They then, quite properly, critique them all.
There's been nothing unreasonable said
🗞️REPORT | Ireland defeat Scotland in their opening #RWC2019 Pool A fixture in Yokohama.👇https://t.co/Swuh0QzMD4 pic.twitter.com/l3oum65HZv

— Scottish Rugby (@Scotlandteam) September 22, 2019
On the BBC and especially ITV with us, it's rare that they go into any really serious analysis of matches. Good for Irish TV for treating their audience as if they have a rugby brain.
And apart from this curious myth propagated by Williams and Eddie O'Sullivan that the Scots "talk themselves up", there's really nothing unreasonable in what's been said.
Scotland did not play that well against Italy, indeed for all this championship. Stuart Hogg does occasionally make mistakes. Scotland are not as good as Ireland, as I expect we'll see this Saturday.
Many Irish have little respect for the Scots right now, because they've won 20 of the last 25 games against us. They wiped us out in Yokohama, the most important meeting of the teams in 30 years.
The Scots can't assume respect until our team begins to turn this Irish confidence into hubris. Until then, man up and take the criticism on the chin.