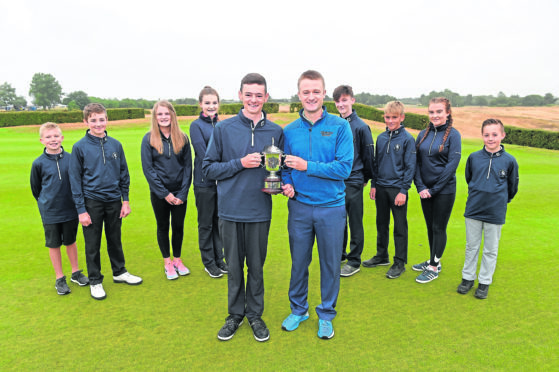 Russell Knox has told the emerging golfing talent in the north of Scotland there is no reason why they cannot follow in his footsteps.
Irish Open champion Knox was back where it all began yesterday as he took time out from his busy schedule to pay a visit to Nairn Dunbar to pass on advice to the youngsters taking part in the event which bears his name – the Russell Knox Trophy.
Knox, who is competing in the Scottish Open at Gullane this week, held court before the action teed off at 10am yesterday as he told the boys and girls of the recipe for success which took him from junior champion and three-time club champion at Nairn Dunbar to being a winner on both sides of the Atlantic.
His message to the youngsters is a simple one – aim high.
He said: "I told them to dream big. I was sitting where they are years ago and it has somehow happened for me.
"It's great to be back at Nairn Dunbar. It's surreal how my career has progressed and I never would have managed getting to this point but I clearly met the right people along the way and had the right support behind me from friends and family.
"I challenged them by asking why can't it be you? If they want to pursue golf hopefully they can make it and I encouraged them to get out on the course and play as much as possible.
"Golf is the only sport where you practise where you don't play. In US sport, you practise on the basketball court. In football you practise on the pitch. In golf, the range and the course is completely different.
"When you go on a course you activate your aiming better and you are trying to hit a low shot or a high shot and it is very hard to use your imagination like that on a driving range where it's flat. The course forces you to do it for real and try to get the ball near the pin."
The 33-year-old from Inverness, who is now based in the United States, could have been forgiven for cancelling his scheduled visit to the Highlands following his Irish Open win on Sunday but, for Knox, a promise made is a promise kept.
He added: "I haven't switched over to Scottish Open mode. I'm still in Irish Open mode but once I get to Gullane, do my media duties and then get on to the first tee on Thursday. I'll try to focus somehow.
"My jaw hurts from smiling so much and my arms hurt from holding the trophy so much so it's been good problems. To be here is great but also being the Irish Open champion is great. I guess some things happen for a reason and to be a champion is a dream come true but I know I will have to try to focus again come Thursday.There is a lot of brown grass out there and it's going to be a good couple of weeks. Ballyliffin played very firm last week and I cannot imagine Gullane this week or Carnoustie next week at the Open being any different.
"The weather looks fairly good for the next few weeks, too, so it's going to be fun."