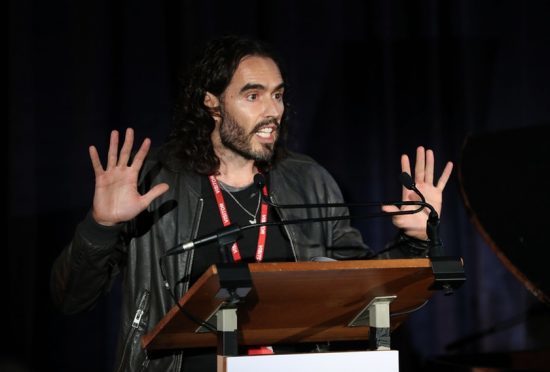 A petition launched by Russell Brand to permanently house the homeless people of Windsor as a wedding gift to Prince Harry and Meghan Markle has reached more than 10,000 signatures in less than 24 hours.
The comedian kicked off the campaign in response to Windsor and Maidenhead Council leader Simon Dudley's request for police to clear rough sleepers from the town ahead of the marriage of Harry and the American actress in May.
Brand's wish is for Slough Borough Council to buy an existing building to give to homeless charity SHOC (Slough Homeless Our Concern) in order to help the vulnerable people it supports.
Within hours, the petition had reached nearly 15,000 signatures.
In a video, posted on Thursday, Brand said: "You know Meghan Markle and Prince Harry are getting married, and that councillor guy said 'We've got to cleanse all the homeless people off the streets of Windsor' in some terrifying sort of eugenics, genocide, burn the books, burn the people-type language.
"One of the charities that will be affected by that are SHOC, a charity that I've worked with for ages.
"They provide day care for homeless people and loads of advice and clothes and help, vital clothes and help."
Brand said "of course it's not Prince Harry and Meghan Markle's fault" but "it is an interesting indication that in order to make this wedding spick and span and spotless, the most vulnerable people in society are being exposed to yet more persecution."
He added: "That is why I'm suggesting that, as a wedding present to Prince Harry and Meghan, we encourage, insist, push Slough Council to donate a building to SHOC.
"The building already exists – all they have to do is sign a little bit of paper and the building can be used by SHOC to help the homeless that will be affected by this royal wedding – and they're already homeless."
He said he hopes that if people group together to support his plea, they can put enough pressure on Slough Council to give the building to the homeless charity.
In his petition, launched on Change.org, Brand wrote: "It will cost them nothing but the ink in the pen to commit to a 'change of use' for this building – you know how easy it is to do that – councils have to do it every time they turn an old office block to luxury flats."
Two weeks ago, Prime Minister Theresa May said she disagreed with Mr Dudley, who had said that homeless people in Windsor could present the town in a "sadly unfavourable light" when the royal wedding takes place on May 19.
He tweeted that some rough sleepers had made a "commercial life choice praying (sic) on residents and tourists".
In a letter to police, he complained about "aggressive begging and intimidation", and "bags and detritus" on the streets.
Mr Dudley later apologised for his comments and said he was not referring to genuine homeless people, and that he regretted referring to Harry and Ms Markle's wedding at the time.