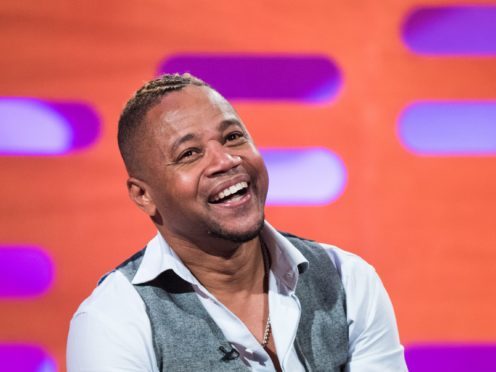 Jerry Maguire star Cuba Gooding Jr has said he will feel the presence of his late father, The Main Ingredient lead singer Cuba Gooding Snr, when he makes his West End debut in Chicago.
The Oscar winning actor will take on the role of fast-talking lawyer Billy Flynn when the musical returns to the capital after a five-year absence.
Speaking at the launch of the show, where he performed the number All I Care About, he told the Press Association: "My father was a singer and we just lost him this year.
"He was always the musical bedrock of our family and I knew I had this ability but I just never had the opportunity, never wanted to explore that as the actor of the family, and now it's like I can feel him here with me.
"The first time I was on stage I understood his life motivation, I get it."
Asked if was sad his father would not be there to see him, Gooding Jr replied: "He sees me, he will be watching every show."
The actor said his singing experience to date was just "a shit-load of karaoke", adding: "I got two go-tos, Come Together by The Beatles and a lot of Stevie Wonder.
"Every time I've been asked to sing professionally like in Jerry Maguire, when I'm singing that Marvin Gaye song, they always give me a song too high and it sounds crazy.
"There has been singing before but never in this professional way, so this is the longest prep for any character that I've ever done, two-and-a-half months now with the vocal lessons and the choreography and then the building the character."
However, he said he already feels at home in the capital, adding: "You don't know how exposed you are to narrow-mindedness and racism in the States, certain parts of the States, until you leave the country and you go to places like London, you truly feel that melting pot statement here.
"You see inter-racial relationships and there is no judgment, and it's why I keep coming back.
"I think people judge you on the merit of your character, not the colour of your skin here and I truly believe that.
"Sure you have idiots everywhere, but the general consensus is the feeling of inclusion.
"I come over here and you have Indians, you have black, you have white, and when you see the programmes, you have everybody coming together."
Gooding Jr, who recently starred in the Emmy, Bafta and Golden Globe winning show The People v OJ Simpson: American Crime Story, said performing in the West End was a lifelong dream.
He added: "It is magical but I didn't think it would be a musical, I thought it would be something like Othello or something heavy. When they said you've been offered Chicago I said 'let's go, let's do it'."
However, he added his nerves about his debut were increased when his Boyz N The Hood director John Singleton cautioned him "Don't f**k this up", when he shared the news. "I said 'I'm gong to London to do Chicago' and he said 'you know that's a musical, right?'"
The actor also promised his version of Flynn, who is called upon to defend murderess Roxy Hart in the production, will be very different to the one portrayed by Richard Gere in the Oscar-winning film.
He said "There is no tap dancing in this. He's killing the tap dancing. It's going to have a little more soul than Richard, a little more hippity-hobbity-hippity.
"I am rehearsing six hours a day. I've been physical my entire life, boxing, ice hockey, I was a gymnast, nothing as strenuous as dancing six hours a day, like at the end of it mentally and physically you are wrecked, completely exhausted."
Chicago, which will star Ruthie Henshall as Mama Morton, will open at the Phoenix Theatre on April 11 with previews from March 26 and booking up until June 30.