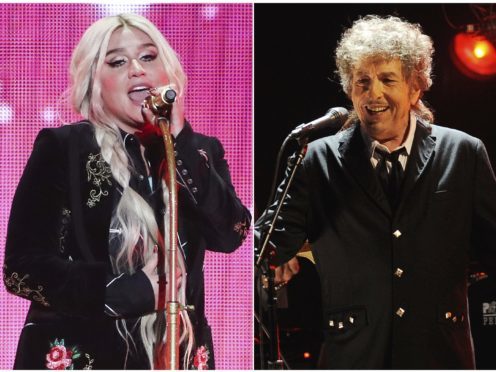 Bob Dylan, Kesha and St Vincent have re-imagined popular love songs to honour the LGBTQ community by switching pronouns in the lyrics.
The six-song album, Universal Love, was released digitally on Thursday and includes Benjamin Gibbard of alternative band Death Cab For Cutie, singer-songwriter Valerie June and Kele Okereke of the indie rock group Bloc Party.
Dylan re-worked She's Funny That Way into He's Funny That Way, singing lines such as "I got a man crazy for me".
Others have changed the pronoun of the classic song in the past, but they were mainly women, including Billie Holiday, Ella Fitzgerald, Liza Minnelli, Etta James and Diana Ross.
Kesha, who has a large gay fan base and has been a longtime supporter of equal rights for the LGBTQ community, closes the album with I Need A Woman To Love Me, a spinoff of Janis Joplin's I Need A Man To Love Me.
Gibbard re-recorded The Beatles' 1960s hit And I Love Her to create And I Love Him.
"We believe projects like this will help all of us reach a point where seeing the world through the lens of people who happen to be different from us becomes natural and commonplace," said Phyllis James, of MGM Resorts.
Grammy-winning singer St Vincent reworked The Crystals' Then He Kissed Me to Then She Kissed Me on the album; Okereke turns The Temptations' My Girl into My Guy; and June takes on the 1930s classic Mad About The Boy for Mad About The Girl.