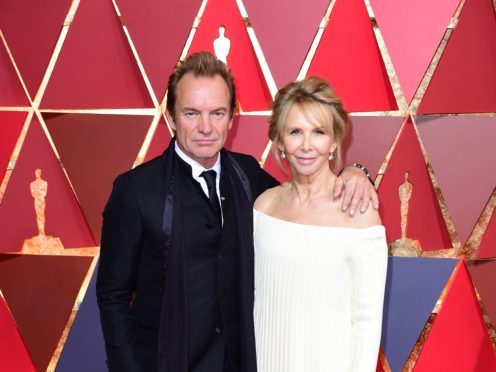 Sting has said he loves being the same age as his wife Trudie Styler because they share the same nostalgia, praising her for having "the body of a 22-year-old".
The singer, 66, and the producer and director, 64, have been married since 1992.
Appearing on ITV's Loose Women, he was asked if 22 years old was the desirable age for a woman.
He replied: "Absolutely not. Trudie and I were born in the 50s, she's a little younger than me, but one of the greatest pleasures of our married life is having the same nostalgias, talking about a TV show you love or a jingle that you remember and it's a great pleasure to have that.
"Anyway, she has the body of a 22-year-old so I have got the best of both worlds."
The former Police frontman appeared on the show with reggae star Shaggy, with whom he has released an album.
The pair are due to perform at the Queen's birthday concert on Saturday and Sting said he fears they will not be the monarch's preferred artists.
He told Loose Women: "We are going to be playing for Her Majesty. I'm not sure we are her musical taste, frankly."
Shaggy added: "I beg to differ because I think she's definitely down with some reggae music."
Sting continued: "We are gong to do our best and if we don't, well we will be in the Tower the next morning."