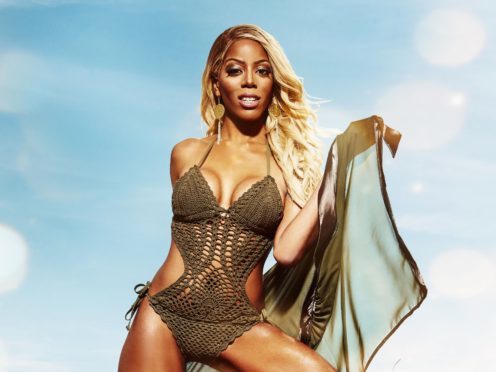 Tia Latham has become the first girl to be booted off new reality show Survival Of The Fittest.
The 28-year-old received her marching orders after the girls lost to the boys in the team challenge.
She said the ITV2 show had been an "amazing" experience, adding: "I couldn't have imagined anything like it. The people that I met, the whole experience.
"I've got a few battle wounds that say, 'I did that'."
Earlier, host Laura Whitmore had told the group the girls they were in danger after the challenge.
Latham, Georgia Cole and Mariam Musa found themselves in the bottom three and the boys had to pick which girl would be replaced with a new contender.
Model Latham said her best memory from the programme had been "all of my twerking".
"I even left twerking!" she said.
Asked what she would like her legacy to be, she said: "Me just being myself, being open and showing the world that there are people like me out there and we are normal, we look normal, we interact normally, people interact normally with you and there is nothing to fear and it is what it is.
"We are all human."
Latham will now be replaced by a new contestant.
The programme, from the team behind Love Island, features "a group of young, hot singles living together" in sunny South Africa.
The singletons take part in a battle of the sexes, including physical and mental challenges, to compete for a cash prize.
Latham said she feels confident that the girls will triumph.
"I hope Jenny is on the winning team and I believe she will win," she said.
"She is a fighter, like I'm a fighter, and we will fight until the end. I'm rooting for Jenny 100%."
Monday night's episode also saw newcomer Lottie James join the other contestants.
The Welsh farmer was brought in to replace Danny Dyer's daughter Dani, who was forced to quit the show when she dislocated her shoulder during a challenge.
Survival Of The Fittest is on nightly at 9pm on ITV2.