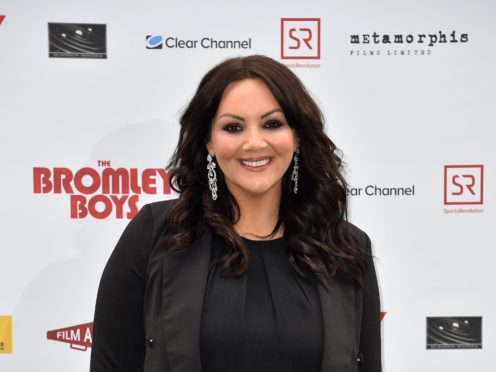 Actor and singer Martine McCutcheon has said she hopes she did Dale Winton proud when she gave a reading at the TV presenter's funeral.
Former Supermarket Sweep host Winton was laid to rest on what would have been his 63rd birthday following his death in April.
Speaking at the premiere of her new film The Bromley Boys at Wembley Stadium, McCutcheon, who was asked to give a reading at the ceremony, described the service as "beautiful".
She said: "The service was beautiful for Dale, it was everything he could have wanted and more.
"There was so much love in the room. It was glamorous, elegant and beautiful.
"There was laughter, tears, amazing live music, I've never been to anything quite like it."
She added: "I was so nervous to do a reading. I just wanted to do him proud and hopefully I did.
"It was very fitting for him. People were smiling with tears rolling down their faces. It was perfect."
McCutcheon also confirmed she has been keeping in contact with the husband of her former EastEnders co-star Dame Barbara Windsor, following the announcement that the Carry On actress has been diagnosed with Alzheimer's.
McCutcheon said: "I'm in touch with her husband and I'm just supporting her as best I can.
"It's devastating. She's being looked after and given the best care. I support her all the way."