A&E departments saw their lowest waiting time performance since records began in March, with the figures also showing that 2017/18 was the worst year on record.
Hospitals have struggled this winter with particularly cold weather, including heavy snow, along with high rates of flu and norovirus.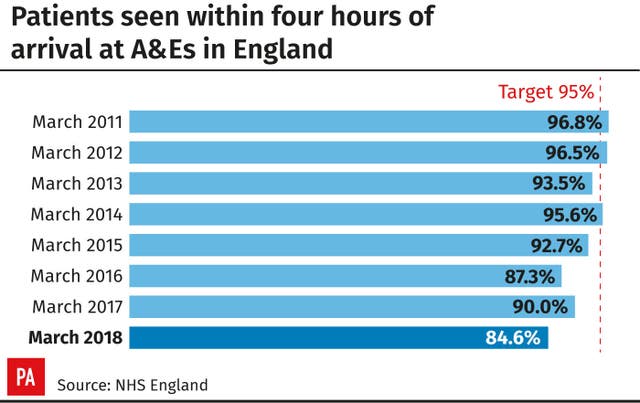 But while performance would usually be expected to improve in the spring, a higher percentage of patients than ever had to wait four hours or more to be seen upon arrival at A&E departments in England last month.
Just 84.6% of patients were seen within four hours overall, while only 76.4% of patients at major A&E departments were treated within the four-hour target.
The March statistics released by NHS England also mean 2017/18 is now confirmed as the worst since records began in 2003/04.
As well as A&E data, the figures also show the number of patients having to wait more than a year for treatment has now gone over 2,000 for the first time since August 2012.
They reveal that just 87.9% of patients started planned treatment within 18 weeks, meaning the 92% target has now not been met in two years.
Dr Nick Scriven, president of the Society for Acute Medicine, said the figures "are the clearest indication yet of the eternal winter we now face in the NHS".
He said he feared how hospitals would clear the backlog of cancelled operations, with some continuing to postpone planned procedures so they can prioritise patients needing emergency care.
Consultant urological surgeon and senior vice president of the Royal College of Surgeons, Ian Eardley, said planning for next winter must start now, adding it is "completely unacceptable" that some of the worst affected areas have seen cancer operations cancelled.
He said: "A&E departments were snowed under by the second big freeze of the winter, with heavy demand carrying on well into March.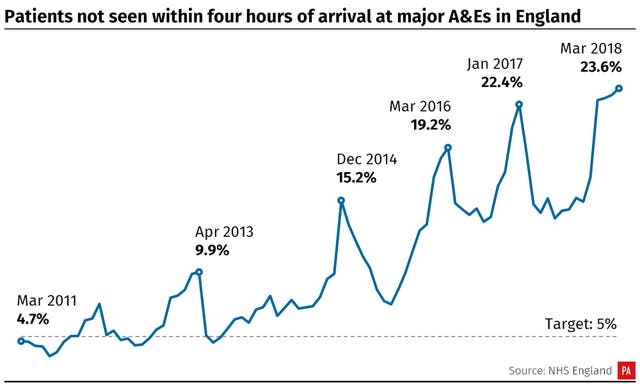 "Having an operation or treatment cancelled is very distressing for patients, who are often in pain or discomfort, and it can cause their condition to deteriorate, potentially making treatment more complicated."
Janet Davies, chief executive of the Royal College of Nursing, said "what began as a 'winter crisis' in the NHS is now becoming entrenched".
She said it was "shameful" that more than 75,000 patients who arrived at A&E had to be kept on trolleys for up to 12 hours while they waited for a bed last month, with more than 850 stuck on trolleys for longer than 12 hours.
"We need urgent answers as to why it has more than trebled in the last year," she added.
The chief executive of NHS Improvement, Ian Dalton, said the statistics "highlight the mammoth pressures facing the NHS this winter, which have continued into March", adding that they show how much staff are to be applauded.
"They have overseen a 5% reduction in the number of patients facing delays to leave hospital compared to last year and they have done this while facing the highest number of emergency admissions seen since records began – 15,000 more patients admitted as emergencies this March compared to last year," he added.
"April tends to mark the point where pressures on the NHS start to decrease, but we cannot be complacent."
An NHS England spokesman said: "As expected, these figures for a month ago confirm what was widely reported at the time, namely that during March the NHS continued to experience severe winter pressures."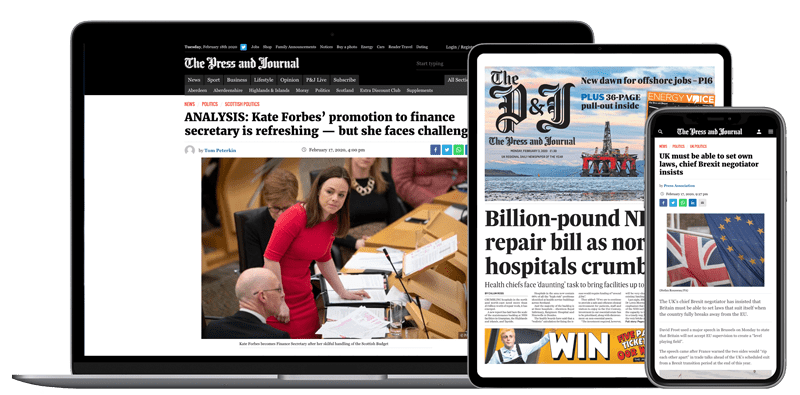 Help support quality local journalism … become a digital subscriber to The Press and Journal
For as little as £5.99 a month you can access all of our content, including Premium articles.
Subscribe