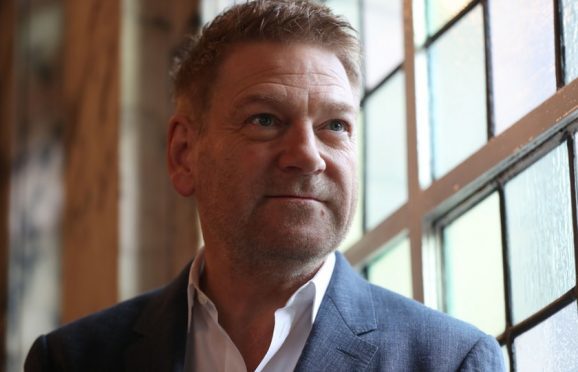 Sir Kenneth Branagh has said proper public funding of the arts is critical.
Berkshire County Council in south east England paid the film director's fees at acting school when his working-class family may not have been able to afford the outlay.
Government support in his native Belfast and elsewhere in the UK is under-pressure amid tight budgets and competing priorities.
Sir Kenneth said: "We live in difficult times, there are always, always always incredible, important, compelling voices needing those kinds of monies in other areas, that is just a fact of life.
"I hope that every time when that kind of money is under challenge really complex and intelligent conversations are had about how to best address those pressures, because it makes a difference, it makes a big difference.
"Arts funding here has made a critical difference to what I see in the cultural landscape, it has had an amazing impact here."
Sir Kenneth, whose Murder On The Orient Express film has been a huge hit, was in Belfast to receive his freedom of the city award.
He was living in Reading when he received a local government grant enabling him to attend the Royal Academy of Dramatic Art.
His father was a joiner and his mother worked in a chip shop.
He added: "My attendance there was made possible by that Government support.
"I don't know that I would have been able to go, I don't think my dad could have afforded to do it.
"Maybe there would have been some other way to do it, people are very imaginative and hard-working about these things, but it was critical and crucial.
"That kind of investment has been paid back many times."
The Arts Council England has said it will invest £13 million more per year to develop the cultural sector.
However, Belfast's Metropolitan Arts Centre (MAC) received emergency funding this month to keep its doors open.
Meanwhile, Sir Kenneth also called for clarity over the future for the film business post-Brexit and said exchange rates were affecting budgets.
Issues like freedom of movement had previously been very clear cut but now had a question mark over them, he said.
"The film industry, (like) many businesses, work best and rely well on stability so while there is instability and a lack of clarity there are challenges for every area but I believe talent will out.
"Sometimes these logjams which are seismic because of their political, social economic impacts, need a while to reveal the true intent.
"But is there an impact? Yes. The extent of it? Unknown as yet."