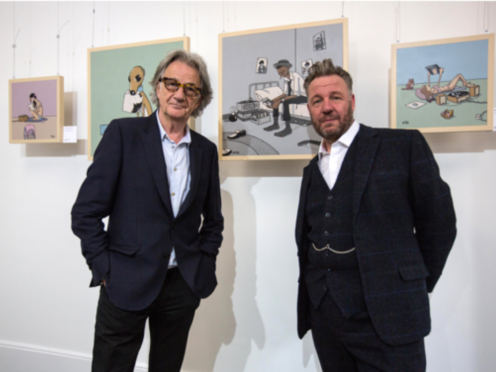 Artist Pete McKee is set to unveil his first exhibition since undergoing a liver transplant.
The Sheffield-based painter's latest show, This Class Works, is an exploration and celebration of the working class and is a collaboration between McKee and fellow artists, film-makers and photographers.
It comes two years after McKee's last show and a year after he underwent a transplant, having been diagnosed with end stage liver disease.
He said: "In these two years, I have been through a lot personally.
"This will be my first body of work since my transplant so it will be interesting to see if it has had a defining effect on my thought process.
"This show will definitely be more pointed than my past exhibitions, though I'll still be having my tongue planted firmly in my cheek in places.
"I'm very passionate about my roots and hate seeing what is happening to my class in this current political climate."
The artist, who has previously been commissioned by bands such as Arctic Monkeys and Oasis, said the exhibition "aims to re-address the unbalance that currently exists in media and society".
"Unbalance that seems to deride and tar the working class as lazy, selfish, needy, ignorant, intolerant, worthless and the cause of all society's problems," he said.
"It's important for me to show the spirit of the working class; the pride, hope, fight, passion and resourcefulness that has been their foundation."
McKee said he grew up poor, on a council estate, and looks back on those times "with fondness of how we seemed to survive on tenacity and an unfailing hope that better was around the corner".
"I want the exhibition to highlight the nobleness and dignity of the working class, then and now and for those who visit this exhibition to leave exhilarated and enlightened to its beauty," he said.
The exhibition runs from July 14-29 at 92 Burton Road, a warehouse space in Sheffield.