International Women's Day takes place annually on March 8, and who better to inspire you than the image of Rosie the Riveter?
From a World War Two poster to one of the most recognised symbols of feminism, Rosie the Riveter has become a powerful figurehead for the women's movement.
The bold yellow poster was created in 1943, representing the women who worked in factories and shipyards during the war.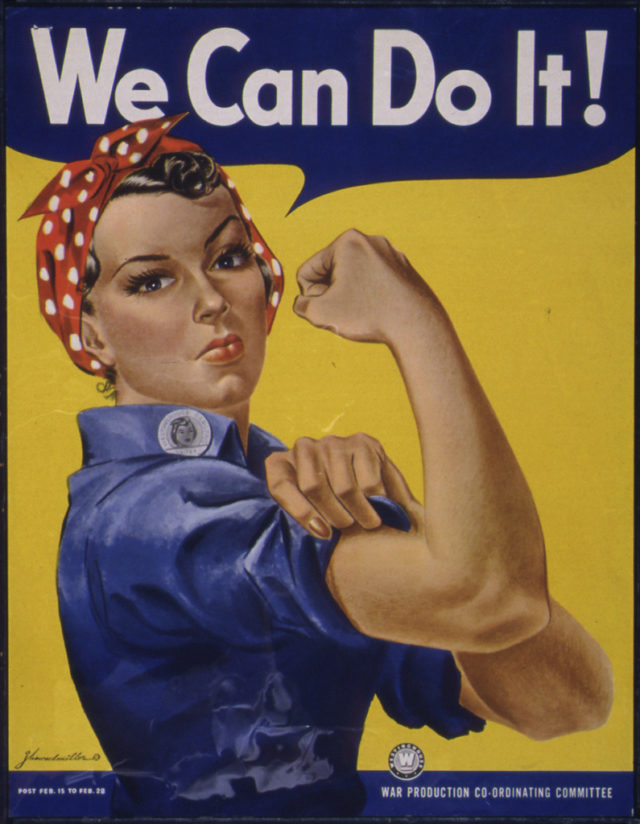 J Howard Miller was the artist hired to create the series of posters for the war effort. One of those posters became the famous We Can Do It! image, which in later years would become a sign of resilience and female empowerment.
Miller is thought to have based his poster on a photograph taken of a young female war worker, Naomi Parker Fraley, taken at Alameda Naval Air Station in California.
This original model for the famous poster, Parker Fraley, died aged 96 in January 2018. When her identity was revealed, she told People Magazine: "The women of this country these days need some icons… If they think I'm one, I'm happy about that."
As a tribute to her on International Women's Day, here are 10 celebrities channelling Rosie the Riveter to help you feeling inspired.
1. Beyonce
Beyonce is in the feminist hall of fame for a reason. Aside from being a trailblazing star, the singer sampled a TED talk by Nigerian writer Chimamanda Ngozie Adichie in her single Flawless, which calls for gender equality. The TED talk is titled We Should All Be Feminists.
Beyonce told Elle magazine: "I'm not really sure people know or understand what a feminist is, but it's very simple. It's someone who believes in equal rights for men and women."
2. Professional wrestler and actress Ronda Rousey
Ronda Rousey is an American professional wrestler, actress and former UFC champion.
In an appearance on Good Morning America, she said: "There are so many ridiculous arguments that MMA is somehow anti-woman… Fighting is not a man's thing: it is a human thing. To say that it is anti-woman is an anti-feminist statement."
3. P!nk
P!nk dressed up as Rosie the Riveter in her music video for Raise Your Glass.
An empowering pop song, Raise Your Glass encourages people to celebrate their differences.
4. Singer Demi Lovato
Demi Lovato has previously spoken up about feminism and gender equality, as well as being an advocate for mental health awareness.
She captioned the photo, which she posted on Instagram: "Gettin' stronger everyday Be good to your body, and your body will be good to you."
5. American actress and dancer Camren Bicondova
Camren Bicondova posted her Rosie the Riveter impression on Women's Equality Day.
The 18-year-old actress has supported a number of charities and non-profit groups, including Global Citizen Festival and North Shore Animal League America.
6. American actress and singer Patina Miller
Tony Award-winning actress Patina Miller posted on Instagram in support of the Equal Rights Amendment (ERA). The ERA is a proposed amendment to the United States Constitution that would prohibit discrimination against girls and women on the basis of sex.
She encouraged her followers to do the same and share their selfies.
7. Kris and Kendall Jenner
Kris Jenner posted the photo of her and her daughter dressed as Rosie the Riveter ahead of the US Presidential election.
The image encourages followers to vote, and Kris captioned it #WeAreWithHer, referencing candidate Hillary Clinton.
8. Singer Kelly Rowland
Kelly Rowland posed as Rosie the Riveter in a photoshoot with Derek Blanks back in 2010.
9. Singer Sara Bareilles
Sara Bareilles did her best Rosie the Riveter impression on Instagram in support of the Equal Rights Amendment.
She said: "Today I lend support to the Equal Rights Amendment to eliminate discrimination against women and girls finally by the letter of the law. Rosie the riveter is an icon of this movement and I proudly join women all over today to ask for support."
10. Actress Laura Benanti
American actress Laura Benanti also voiced her support of the Equal Rights Amendment by posing as Rosie the Riveter.
She said in an Instagram caption: "I'm not (only) smelling my armpit, I am ALSO calling for equal pay for equal work."