Hundreds of people joined Picturehouse cinema workers as they staged a strike backed by Jeremy Corbyn on International Women's Day over a long-running pay row.
Staff gathered outside Picturehouse Central near Piccadilly Circus in London, where they were joined for the protest by TUC general secretary Frances O'Grady and campaigners from the International Women's Strike.
Members of the Bectu union at five cinemas across the capital have been on strike for almost two years for the London living wage, sick pay, maternity and paternity pay, and union recognition.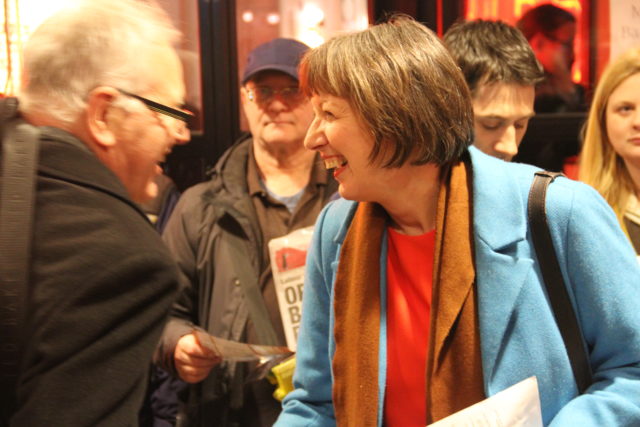 Kelly Rogers, a former employee at Picturehouse cinema the Ritzy and a representative for Bectu, told the Press Association: "It was phenomenal. We had a huge turnout at our picket. The women's strike march came so by the end is was coming up to 1,000 people at our picket."
Speaking about the mood among the protesters, she said: "Determined. Seventeen months takes its toll on people. We are always lucky to recruit people all the time, but people are mostly unbelievably disappointed and angry Picturehouse could let the dispute go on so long.
"People are tired for sure, but I don't think there is any chance of people not continuing. We have to win now, it's gone this far. It's a matter of principle."
The Labour leader previously said in a statement: "I want to send my solidarity to Bectu members on strike at Picturehouse cinemas on March 8.
"I fully support your campaign to be paid the real living wage and to tackle the injustices that you face in your workplace. We desperately need an economy that works for the many, not the few.
"For too many people, work is insecure and low-paid. On International Women's Day, it is right that we recognise that women are disproportionately affected by poverty pay and strengthen our resolve to tackle it."
The staff – at the Brixton Ritzy and the Central, Crouch End, East Dulwich and Hackney Picturehouses – are campaigning to be paid the voluntary living wage.
Mr Corbyn added: "The next Labour government will give all workers equal rights from day one of their employment, whether part-time, full-time, temporary or permanent so that all workers will be protected by decent sick pay, maternity and paternity pay.
"All workers should have the security of a union in their workplace, so Labour will make it easier for unions to gain access to workplaces and to gain recognition."
He said that union reps "should not be dismissed for standing up for their members' rights" and called on Picturehouse to "reinstate the four sacked Bectu reps with immediate effect and to sit down with the union to discuss ways to resolve this longstanding dispute".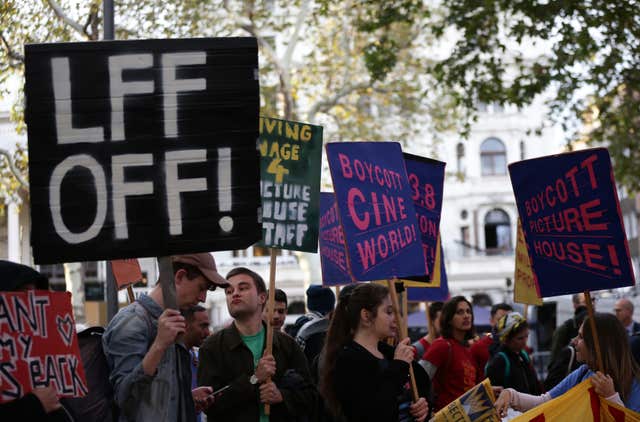 A spokesman for the cinema chain said: "Picturehouse offers some of the best pay and benefits in the industry.
"In London we pay the equivalent of £9.92 per hour for our Front-of-House staff, and many staff earn significantly more.
"This is considerably higher than the National Minimum Wage of £7.50 per hour.
"In addition, we offer bonuses, paid holidays, statutory sick and maternity pay, and a range of other competitive benefits. Unlike many in the industry, we also offer our staff paid breaks.
"These rates apply to staff at all our London cinemas except the Ritzy.
"Unfortunately, Staff at the Ritzy are represented by Bectu who have refused to withdraw strike action and enter pay negotiations.
"Today's strike is backed by just a small minority of staff. And beside the Ritzy, all other cinemas will remain open for our customers.
"It's time for Bectu to end their strike and think about the best interests of their members. It is irresponsible and unnecessary for Bectu to continue this dispute when we reached a pay agreement with the rest of our staff in September last year.
"Finally, on International Women's Day we are proud to state that most of the Picturehouse senior team are women, including the joint MDs and the directors of marketing, distribution and programming.
"As a business, we both champion and celebrate diversity and these ideals are at the core of our day to day work."