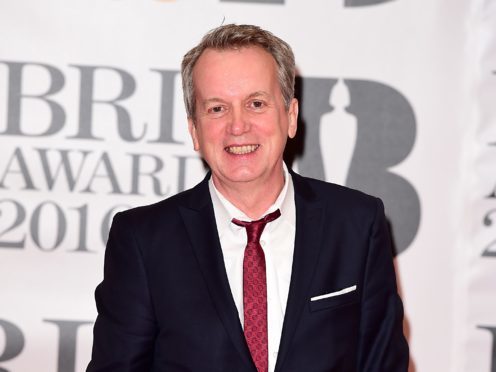 Frank Skinner was among the celebrities sharing their hopes and excitement ahead of England's World Cup game against Sweden.
The comedian, who created football anthem Three Lions along with David Baddiel and The Lightning Seeds, shared a video of himself dancing around to the hit track with his shirt pulled over his head.
Along with the clip, posted on Twitter, he wrote: "It's coming home… guess who? #ENGSWE."
Skinner then pulled the top down to reveal his identity before continuing to jump around enthusiastically in his Absolute Radio studio, just hours ahead of the crucial quarter-final game.
Baddiel shared the tweet himself, and joked: "I can't take any responsibility for this."
Speaking on his Absolute Radio show on Saturday morning, Skinner said: "When I was nine years old, I was sat in my living room in a council house in the West Midlands. I actually watched England win the World Cup, I actually watched it.
"So it can happen, trust me, I am an eyewitness."
He added that it's "all right to believe" England might win.
"We could be doing the show this time next week, and we could be looking forward to England being in the World Cup final the next day. Come on!"
Excitement reached fever pitch among a number of famous football fans, with the cast of West End musical Hamilton changing one of their songs to sing Three Lions.
In a clip shared on Twitter, members of the cast were dressed in their costumes backstage, as they started to sing Hamilton song Yorktown (The World Turned Upside Down), before chanting: "Football's coming home, it's coming home."
Comedian Russell Brand shared a video of himself reciting the St Crispin's Day speech from William Shakespeare's Henry V, against the music of Three Lions.
Brand wrote: "Henry V & Gareth Southgate – A Homage to England."
BBC broadcaster Jeremy Vine shared a picture of Swedish band Abba on Twitter, and joked: "Sweden's back four terrify me."
Former England player David Beckham shared some words for the current England squad, writing on Instagram: "Come On England.
"This is a big moment and the whole country & more are behind our guys… We are already proud but now we are getting excited… Play with passion @england."
Take Me Out host Paddy McGuinness joked that he wanted to tire his children in time for the game.
"Right! I've got till 14:00 to knacker the kids out. I'm going in!!!! #England #WorldCup," he joked on Twitter.
Former EastEnders star Harry Reid posted about both the World Cup game and Pride London, taking place on the same day.
"Two flags flying high over England today… lets celebrate and be proud of both. #threelions #worldcup #lgbt #londonpride," he wrote, along with pictures of the Pride rainbow flag, and the England flag.
England face Sweden at 3pm.