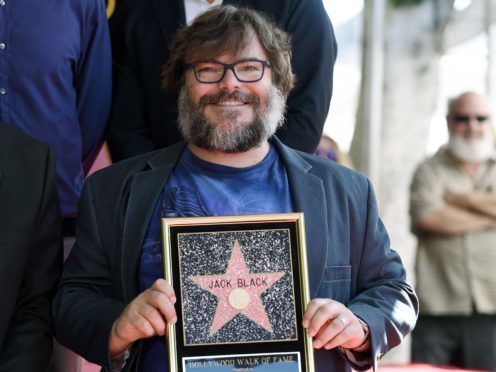 Jack Black took aim at Donald Trump as he was honoured with a star on the Hollywood Walk of Fame.
The Shallow Hal, School Of Rock and Kung Fu Panda star was described as "a warm, genuine and kind person" during Tuesday's ceremony in Los Angeles.
As he became the latest inductee into the Walk of Fame, Black, 49, told fans he felt like he had "made it".
He said: "If you get one of those stars on the sidewalk, that mean's you've made it and I feel like I've finally grasped that sweet brass ring! The question is, where do we go now?"
Impersonating Guns N' Roses singer Axl Rose, Black sang, "Where do we go now?" before joking about retirement and focusing on "diet and exercise".
He then told the crowd he "loves" them, adding: "Except for Donald Trump's a piece of shit! Peace out, love you!"
Before Black took to the stage, actor Mike White, who also starred in School Of Rock, paid tribute to a "warm, genuine and kind person".
He said: "To be as famous as you are, and still be a human, takes a strong sense of self, a strong sense of character."
White told the crowd the pair had been "mobbed" by fans in Hollywood and Black stayed to give "everybody their moment".
He added: "He loves people, he loves to be loved and people love him. What I think is the most impressive is that the legend that they love is incredibly close to the actual person that he is."
Black's star was number 2,645 on the Walk of Fame and he was honoured in the category of Motion Pictures.