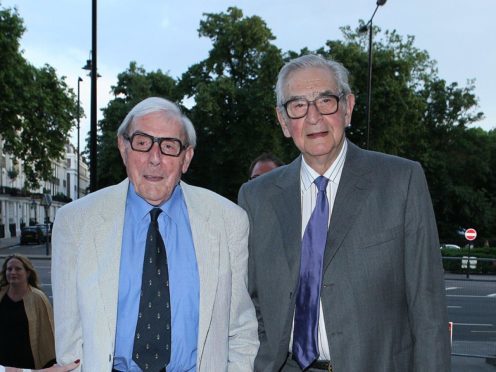 Denis Norden has been described as "the gentlest of gentlemen" after his death at the age of 96.
Comedian Keith Lemon and BBC Breakfast presenter Dan Walker were among the stars paying tribute to the former host of It'll Be Alright On The Night.
Norden died after spending "many weeks" at the Royal Free Hospital in north London.
Walker wrote on Twitter: "Sad news about the death of Lord of the Clipboard Denis Norden.
"In the age of youtube and social media it's hard to explain how exciting it was to watch 'It'll Be Alright On The Night'."
Lemon, whose real name is Leigh Francis, shared a picture of the host on Instagram, writing: "Sad news about Denis Norden RIP."
Quizmania host Greg Scott said: "Just heard about Denis Norden. The gentlest of gentlemen. The kindest soul. The loveliest human being.
"Met and worked with him on Countdown a number of times and was always an utter joy to be around. A very sad start to the day. Sleep well, Sir."
Writer Richard Littler said: "My whole family loved It'll Be Alright on the Night when I was growing up.
"In addition to his many years as a comedy writer, Denis Norden also wrote/narrated A Child's Guide to Blowing Up a Motor Car about the making of Thunderball."
Norden presented the ITV bloopers show for 29 years until his retirement in 2006.