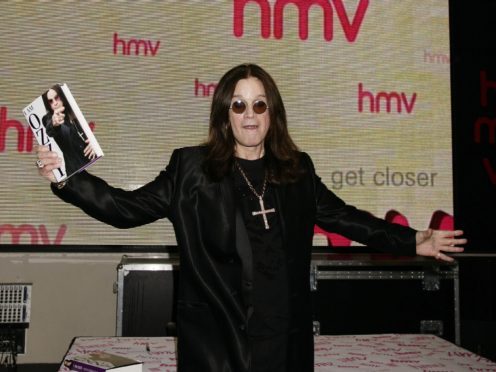 Black Sabbath singer Ozzy Osbourne will receive the equivalent of a lifetime achievement gong at Metal Hammer's Golden God Awards after his band were awarded the same honour at last year's event.
Osbourne, 69, will be recognised for his almost 50-year career, including his pioneering work in the Birmingham metal band Black Sabbath and his long solo career.
Speaking after it was announced he would be recognised with this year's prize Osbourne said: "What an immense honour it is to be getting a second Golden God Award after Sabbath picked one up last year.
"The fans who have supported me and this music mean everything to me, which is why getting this award is so special. I will see you all down there."
The singer, who is often known as The Prince of Darkness, founded Black Sabbath in 1969 alongside guitarist Tony Iommi, bassist Geezer Butler and drummer Bill Ward before leaving in 1978.
The group are widely credited with inventing and popularising the heavy mental genre of music.
Osbourne reunited with Iommi and Butler for an album in 2013 which was called 13.
On February 4 2017 the trio brought the curtain down on the band's career with the final show of a farewell tour in their home city of Birmingham.
As a solo artist Osbourne has released 11 albums with his debut Blizzard Of Ozz arriving in 1980. It featured two of his most revered songs Crazy Train and Mr Crowley.
Osbourne has sold over 100 million records worldwide as Black Sabbath's frontman and on his own.
As well as his music, Osbourne's antics have gone down in rock folklore.
During one infamous incident he bit a bat's head off during a concert in the US state of Iowa in 1982.
Reality TV documentary series The Osbournes, which gave a fly-on-the-wall glimpse into his family's everyday life, aired on MTV between 2002 and 2005.
Previous recipients of Metal Hammer's Golden God Award include Motorhead frontman Lemmy, Megadeth's Dave Mustaine and Rob Zombie amongst others.
The metal publication is now in its 32nd year. It's editor Merlin Alderslade said: "It just doesn't get any bigger than this.
"The Prince Of Darkness, the most iconic name in heavy metal, a man without whom these very awards, this very magazine – hell, our very culture – would quite simply not exist.
"We can't wait to share what will be a very special moment with you all."
The 16th Metal Hammer Golden God Awards ceremony will be held at the Indigo venue in London's O2 Arena on June 11.