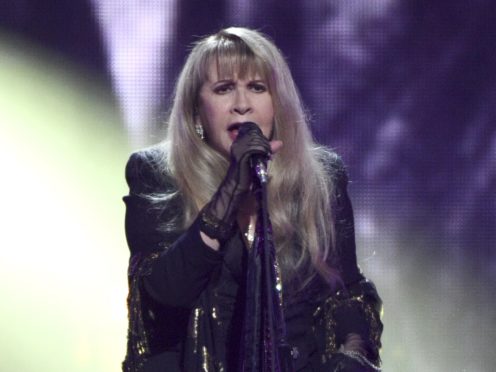 Stevie Nicks has said she is "opening the door" for other women after making history at the Rock and Roll Hall of Fame.
The singer became the first woman to be inducted twice, being recognised for her solo work at a ceremony in New York on Friday while previously entering as part of Fleetwood Mac.
Nicks, 70, urged other female artists to break away from bands to do work on their own, telling the star-studded audience more women would follow in her footsteps as she was "going to give you all the directions".
Nicks added: "What I am doing is opening up the door for other women."
Nicks, who was inducted into the Hall of Fame with Fleetwood Mac in 1998, opened the show at Brooklyn's Barclays Centre with a performance of her 1983 hit Stand Back.
She was later joined on stage by Eagles founding member Don Henley for a performance of Leather And Lace before former One Direction star Harry Styles, who inducted Nicks on Friday, took to the stage.
He and Nicks performed a version of Stop Draggin' My Heart Around.
Nicks is just one inductee on the night.
Janet Jackson will also be honoured, as will five British bands. Def Leppard, Radiohead, the Cure, Roxy Music and the Zombies are being inducted later in the night.
Jackson will join her brother, Michael, as well as the rest of the Jackson 5 in the famous institution.