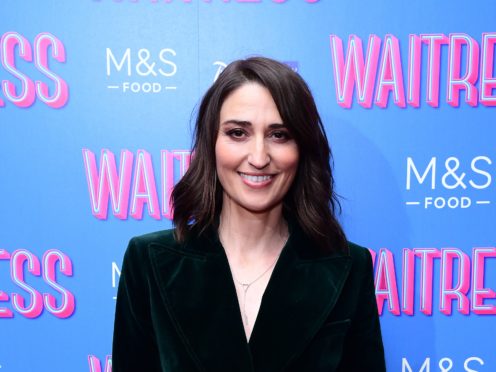 Gender inequalities are "embedded into our culture", Sara Bareilles said as she admitted choosing to work with only men in the past.
The Grammy and Tony Award-nominated singer-songwriter also believes the current movements against such issues, such as Time's Up and Me Too, are important, and "anger is useful" in helping achieve progress.
Bareilles was part of the first all-female creative lead team in the history of Broadway when the musical Waitress, for which she wrote the music, debuted in 2016.
She then became part of the West End's first ever women-only creative lead team earlier this year when the show debuted in London, starring American Idol star Katharine McPhee and 30 Rock actor Jack McBrayer.
Bareilles, 39, told the Press Association she would be "shocked if you found any woman in any industry" who felt being a woman did not have an impact on their career.
Speaking of her own experience, she said: "There are certainly times where I had to speak twice as loud to be heard, or sort of demand the attention and demand the respect and demand to be factored in to making decisions for myself, and that was at a young age.
"But it still happens all the time, and it's so embedded into our culture that women are socialised to be thinking about the group and taking care of people around them, and men just aren't.
"I don't even think it's malicious all the time, it's just something that we're having to wake up to to notice, as a habit – and it just happens to be a bad habit – that women get made small.
"It's something I am very actively involved in trying to support and have always been, in terms of the messaging and my branding."
The American music star admitted that she too is "at fault for having my own hiring practices".
She said: "I was sort of realising like, wow, I only worked with men for a really long time.
"I just wasn't even looking for women, and so it's kind of an interesting time to be in that space of awakening to that.
"We have to be, on the one hand, really vigilant about continuing to make change, but also forgiving of each other for the fact that we didn't get here sooner.
"I'm pissed about it too, but I think the anger is useful as it can just fuel progress instead of living in a space of retribution or punishment; I think forgiveness and love and moving forward with a higher consciousness is the best way."
Bareilles sings about feminism on her single Armor from her new album Amidst The Chaos, written after the 2017 Women's March in protest against Donald Trump.
The singer, who rose to fame with her breakout hit Love Story in 2007, said "we're in a moment of evolution" in terms of gender equality on a wider scale.
She said women must not be labelled a "diva" for knowing what they want.
"I still find myself having to really muster up the courage to ask for what I want, to use my voice, to disagree, to be the only voice of dissent in the room," she said.
"Those are things that are hard-won, but I think they're very valuable if we can get there."
Amidst The Chaos is out now. Waitress is currently showing at the Adelphi Theatre in London.